Fish Aggregating Device found near Ambergris Caye
Thursday, September 6th, 2018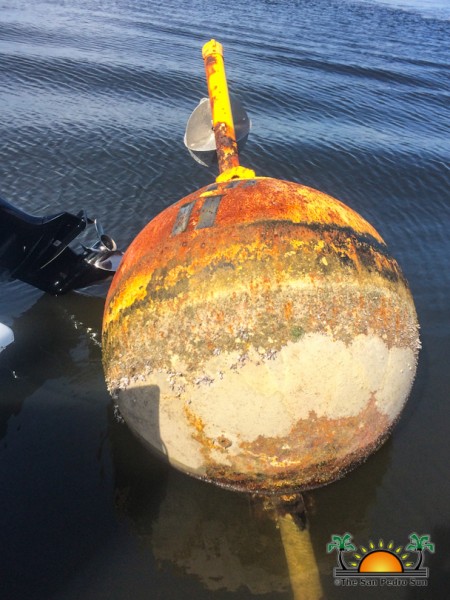 A large yellow, buoy-like object was found floating near the shores of Ambergris Caye on Saturday, September 1st by local tour operators. The device turned out to be a Fish Aggregating Device (FAD), which is a human-made object used to attract open ocean fish such as marlin, tuna, mahi-mahi and other types of fish. They usually consist of buoys or floats tethered to the ocean floor with concrete blocks. FADs attract fish for numerous reasons that vary by species, as fish tend to move around FADs in varying orbits, rather than remaining stationary below the buoys. Both recreational and commercial fisheries use FADs. Before FADs, commercial fishers would follow the birds attracted to floating weeds and other large, drifting items that attracted fish.
The huge device was first taken to the Hol Chan Marine Reserve in an attempt to discern where it came from. Afterwards, it was taken to Captain Shark's boatyard south of San Pedro Town where it will be analyzed for possible repairs and then taken back out into the open sea.
It is still unknown where the FAD came from, and even a line of what appeared to be serial numbers on it could not reveal its origin.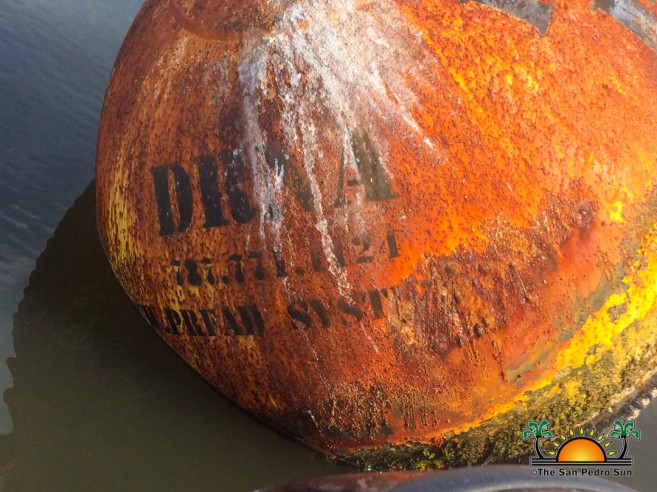 However, it is suspected that it was anchored near one of the Caribbean nations in the Eastern Caribbean. According to Elito Arceo, a successful businessman and tour operator on the island, these type of devices are usually placed out at sea in front of Ambergris Caye. They help fishers on the island in their deep-sea fishing trips. It is expected that when the FAD is taken back out in the sea, it will join the other devices in front of the island's coast.
The San Pedro Sun contacted James Ritchie at Captain Shark's, who indicated that they would be working on the FAD found on Saturday. Ritchie mentioned that they have worked on FADs in the past, and after successfully repairing them, they have anchored them out at sea.
FADs are known to benefit fishing industries around the world greatly. Millions of tons of fish are caught every year near these floating devices in the Atlantic and Indian Oceans. Several of these floats are anchored in the deep sea to the east of Ambergris Caye and support sport and commercial fishing within the island's fishing community.
Follow The San Pedro Sun News on Twitter, become a fan on Facebook. Stay updated via RSS