San Pedro's Almita Pinelo appointed Acting Vice Commandant of the Belize Coast Guard
Thursday, July 30th, 2020
Ambergris Caye's very own senior officer in the Belize Coast Guard (BCG) Almita Pinelo was promoted to Lieutenant Commander on November 27, 2019, and months after, she is making history as she has been appointed Acting Vice Commandant of the BCG.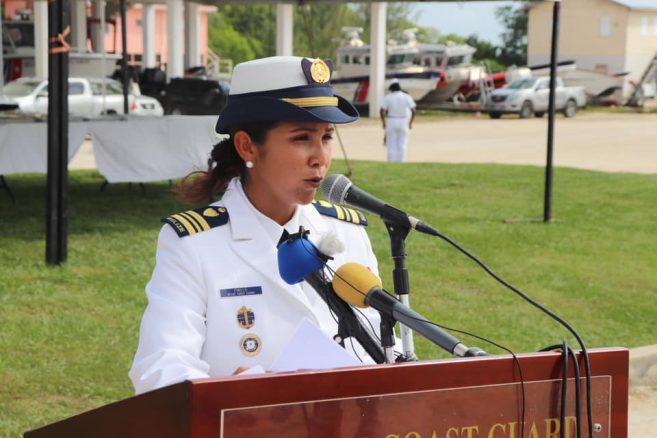 The official announcement was made on Wednesday, July 29th via a press release from the BCG's headquarters on the mainland. The official note explains that Commandant Captain Elton Bennett is scheduled to undertake to go on a study leave at the Royal College of Defence Studies in England beginning in August.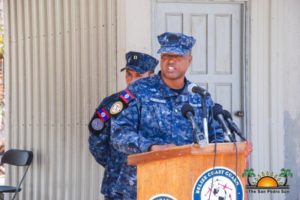 During his absence, Commander Gregory Soberanis (right) will assume the post of Acting Commandant, aided by Pinelo as his second in charge.
This is considered the highest military rank a female has accomplished in Belize, and islanders are very proud of Pinelo's achievement. Pinelo spoke with The San Pedro Sun, expressing how honored she feels for the opportunity. "I am privileged to be given such a high responsibility at such a young age," she said. Pinelo remembers being the first islander joining the BCG some years ago and continues to encourage more island residents, especially women, to join the ranks of Belize's military forces. She added that at the coast guard everything is gender neutral to give everybody a fair opportunity. "As long as you give your all and you are committed, you will get every opportunity that every male has been able to get," said Pinelo.
Pinelo has an outstanding career with the BCG, and continues to be a prominent example for women in the military. The islander has trained in different countries, including Mexico, where she completed a six-month course in 2017 at the Universidad Naval, Centro de Estudios Superiores Navales. Pinelo was the only female among 81 other male naval officers. In June of this year, Pinelo was an honor graduate from the U.S Coast Guard Training Center in Virginia, USA.
The San Pedro Sun joins the entire island community in saluting Acting Vice Commandant Almita Pinelo!
Follow The San Pedro Sun News on Twitter, become a fan on Facebook. Stay updated via RSS