San Pedro's Almita Pinelo highlighted as Belize's Wonder Woman
Monday, July 5th, 2021
After making islanders proud for receiving the highest military rank- Lieutenant Commander of the Belize Coast Guard (BCG), Almita Pinelo is once again in the spotlight. For the month of July, the US Embassy in Belize has designated her as Belize Wonder Woman, recognizing her achievements.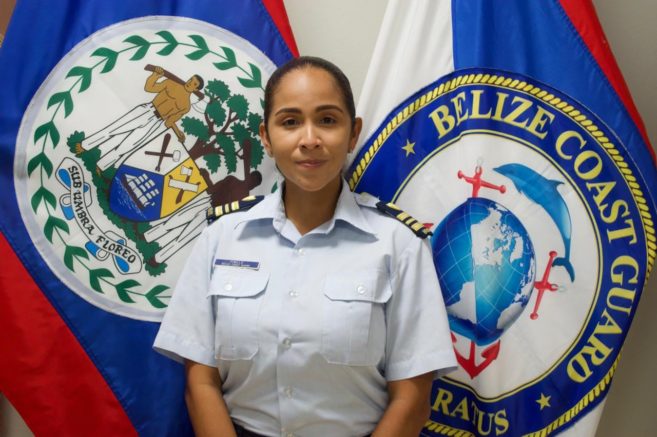 The Acting Vice Commandant of the BCG has an outstanding military career and continues to be a prominent example for women in the armed forces.  Before entering this field primarily associated with men, Pinelo grew up loving the environment when she lived near the sea in San Pedro Town. She pursued an education in Natural Sciences at St. John's Junior College. In the middle of her studies, Pinelo had the opportunity to sit on the officer selection board for the Belize Defence Force (BDF) and succeeded in being selected at the end of the tryouts.
As a cadet in the BDF, Pinelo received military training abroad. She had the opportunity to work with a mentor from the US Naval Academy and further her education at an American Service academy. After she graduated in 2013 from the US Coast Guard Academy, Pinelo returned to Belize as a Lieutenant and served as the only female officer in the BCG at that time.
Her duties with the BCG included three years as a coast guard Adjutant. To maintain eligibility and climb the ladder of ranks, Pinelo went to Mexico, where she completed an officer's training at the Centro de Estudios Superiores Navales. She once again made history as the first woman to complete the school's Especialidad de Mando Naval course. The island girl is also an honor graduate from the US Coast Guard Training Center in Virginia, USA.
The young deputy commandant has also assisted in establishing and managing the 'Women, Peace and Security (WPS) group within Belize's government. She explains that it is an interagency group of members from the various security forces in the country. WPS has helped established the WPS Agenda, which is a policy aimed at increasing Belizean women's role in the national security spectrum.
Pinelo says she feels privileged to have these opportunities and responsibilities. She never stops encouraging island girls and from across the country to follow their dreams to join the ranks of Belize's military. According to her, everything is possible, and there are no significant obstacles as long as there is faith and commitment.
Follow The San Pedro Sun News on Twitter, become a fan on Facebook. Stay updated via RSS