San Pedro Athletes take top prizes at Lionman Triathlon
Tuesday, September 2nd, 2014
Local athletes dominated the 15th Annual Lionman Triathlon held on Sunday, August 31st with Kent "Bob" Gabourel taking first place in the male category and Brandon Santos taking first place in the junior category. But Kent and Brandon were not the only San Pedro athletes to place high in the competition as Jordan Santos took second and Kian Ancona took third, both in the junior category. The triathlon started at 6:30AM at the Sand Lighters Promenade on New Town Barracks, Belize City and saw the participation of several local and international athletes.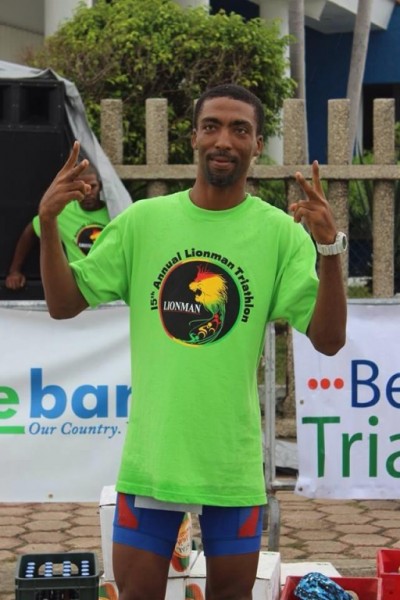 The Lionman Triathlon dares athletes to complete a 1500 meter swim, a 40 kilometer bicycle ride and a 10 kilometer run. The triathlon is divided into four categories: male (over 18 years of age), female, junior (under 18 years of age), master (over 40 years of age) and relay team. The triathlon tests the athlete's endurance in the three disciplines and builds endurance and stamina.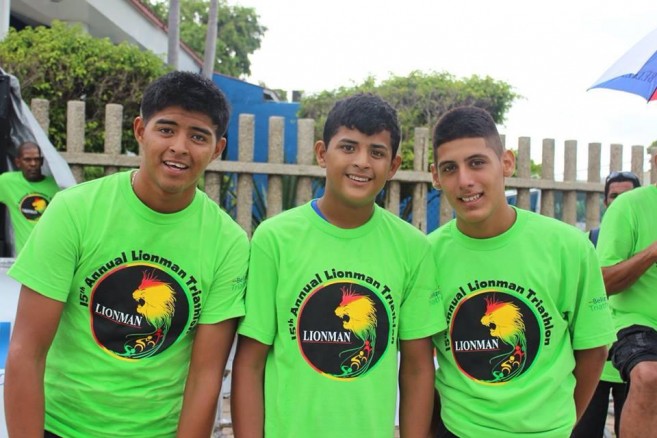 Kent, winner of 2013 Lionman Triathlon male category, defended his title and even set a new personal record. He took first place in the male category with a time 2:19:03 (hours: minutes: seconds). Kenroy Gladden took second place with a time of 2:26:57, while Amed Figueroa came in third with a time of 2:27:38. "This year's triathlon was tough for me since I am recovering from an arm injury, but I still was determined to do my best. Participating in these competitions are part of my life; I enjoy the sport. I don't do it for the win but for the experience," said Kent. Also participating in the male category from San Pedro was Eric Donis.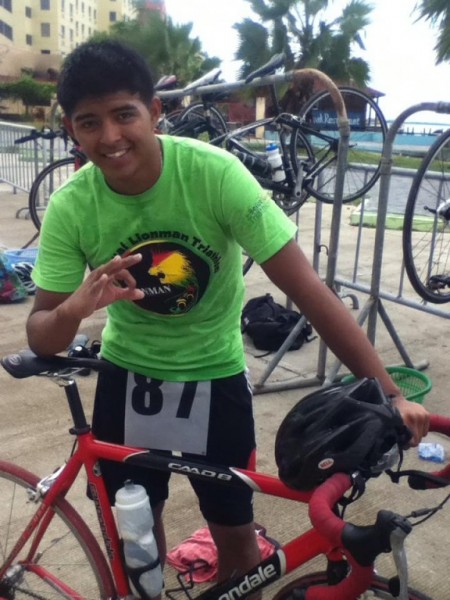 In the junior category, Brandon took the junior champion title with a time of 2:42:04 from his younger brother Jordan, who was the 2013 Lionman Triathlon junior winner. Jordan did not stay far behind, taking second place with a time of 2:50:00. Kian ended in third place with a time of 2:54:00. All three athletes are Sanpedranos. "I am very proud of all of them. I try my best to work with them and have them properly trained for these competitions. Brandon surprised me with this win. He performed amazingly. I will continue to work with them and encourage them to strive for their best in whatever sport they choose," said Kent. Brando is very happy with his win and plans to defend his title in next years triathlon. "I was very excited with the win. I definitely did not expect it. I would like to thank my family and my girlfriend Marceli McCorkle for always supporting me and encouraging me to take on the challenge. I would also like to thank Kent for all the training and pushing me to do the best," said Brandon.

Another Sanpedrana who also took a top prize in the triathlon was Almita Pinelo, who, together with her Belize Coast Guard team won first place in the relay team category. Almita did the swim segment of the competition, while Joel Borland did the cycling and James McFoy did the running. Second place in relay team category went to Sagitun, while Belize Bank took third place.

Other winners included: Female category-1st place Shalini Zabaneh, 2nd place Kerah Eiley and 3rd place Jaime Ganger; Masters category- 1st place Ian McField, 2nd place Richard Lewis and 3rd place Trevor Meddle.
Kent would like to thank all those who have assisted him and other San Pedro athletes in their ventures, including San Pedro Town Council, Councilor Gabriel Nuñez, Marion Mejia, Blue Water Grill, Mayan Princess Hotel, Coleman Construction, Elito Arceo, Jambel's Jerk Pit, Area Representative Manuel Heredia and The San Pedro Sun.
Congratulations to all the participants of the 2014 Lionman Triathlon! Keep up the good work!
Follow The San Pedro Sun News on Twitter, become a fan on Facebook. Stay updated via RSS