Two San Pedro athletes shine at Lionman 2011
Wednesday, September 7th, 2011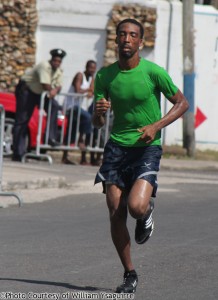 Belize City's 12th annual Lionman Competition was held on Sunday September 4th. This year, San Pedro had two community members participating, and they certainly made La Isla Bonita Proud. Eric Donis, swimmer and Kent "Bob" Gabourel, runner, were joined by 2010's female Lionman, Ms. Kaya Cattouse, biker. Eric, Bob and Kaya formed the team C-Ray Bad Intentions, and each member took on one of the three segments that they were specialized in.
With thirteen three-member teams competing in the relay, the competition started at 6:30am with a .95 mile swim along Princess Margaret's Drive. Eric undertook this leg of the competition, swimming fast enough to come in second, and giving an edge to Kaya, who biked a total of 24 miles along the Northern Highway to the Haulover Bridge and back, twice.
Despite a slight delay in Kaya's completion of the second leg of the competition, Bob was able to make up for the time lost by finishing third place in the 6.2 mile sprint along Princess Margaret Drive.
Through hard work and excellent team effort, Eric, Kaya and Bob were able to finish the relay in a time of 2 hours, 29 minutes and 32 seconds, just 4 minutes, 16 seconds behind the second place winners, Team Spectrum Design, with members Denise Diaz, Wilbert Jones and Louis Haulze (2:25:16). The coveted first place went to Team Sagitun, with members Shalini Zabaneh, Brandon Cattouse and Kevin Siroki, who finished at a mere 2 hours 19minutes and 23 seconds (16 minutes, 2 seconds ahead of our San Pedro representatives).
According to Bob, he had a great time competing, and while winning the grand prize would have been great, placing third was certainly a highlight for Team C-Ray. He also stated how impressed he was by Eric's swimming skills. "[We are] already looking at other competitions…[Eric] wants to compete internationally, so he is serious, researching other events that will be taking place soon." Team C-Ray was self-sponsored.
The San Pedro Sun joins the community in extending a huge congratulations to Kent "Bob" Gabourel, Eric Donis and Kaya Cattouse on a job well done!
Photo Gallery
Follow The San Pedro Sun News on Twitter, become a fan on Facebook. Stay updated via RSS