Prime Minister Briceño says he will not let San Pedro down
Wednesday, March 10th, 2021
During the swearing-in ceremony for the newly elected Mayor Gualberto 'Wally' Nuñez and his councillors of the San Pedro Town Council, Prime Minister Honourable John Briceño said that he would work with the island's local government for the betterment of La Isla Bonita.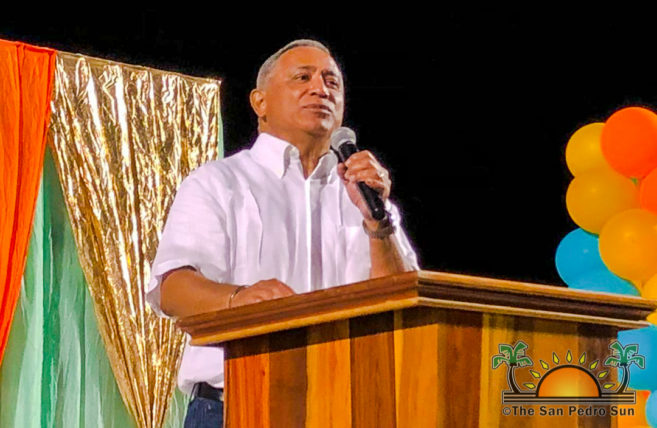 Briceño said whenever he is in San Pedro, he is energized. He will never forget that San Pedro supported his candidacy for leader of the People's United Party in 2008. "I am so grateful to San Pedro," he said. "San Pedro was there with me from day one. You have never let me down, and I will never let you down." Briceño indicated that the road ahead is bumpy as the previous United Democratic Party left the country bankrupt.
He pointed out that Belize has the best tourism product in the entire world, and the country now has a government that will bring back the industry, which is slowly resuscitating. "We are putting Belizeans back to; we need to put San Pedro back to work," he continued. Briceño said they would do everything possible for this to happen, but they need everyone's support as well.
The prime minister closed by pledging that along with Area Representative the Honourable Andre Perez and Mayor Wally Nuñez they will get the job done. "We are going to make San Pedro once again the number one spot in the country!" he stressed.
He thanked San Pedranos for their contribution to the country and emphasized that the island will get what it deserves from Central Government. Some of that assistance will be in the creation of jobs and the building of the long-awaited hospital.
Follow The San Pedro Sun News on Twitter, become a fan on Facebook. Stay updated via RSS