Prime Minister Briceño Addresses the 31st Special Session of the United Nations General Assembly
Saturday, December 5th, 2020
The Prime Minister Hon. John Briceño delivered an address during the 31st Special Session of the United Nations General Assembly on the COVID-19 pandemic. The Session will span two days from the 3rd to 4th December 2020 and is being conducted virtually.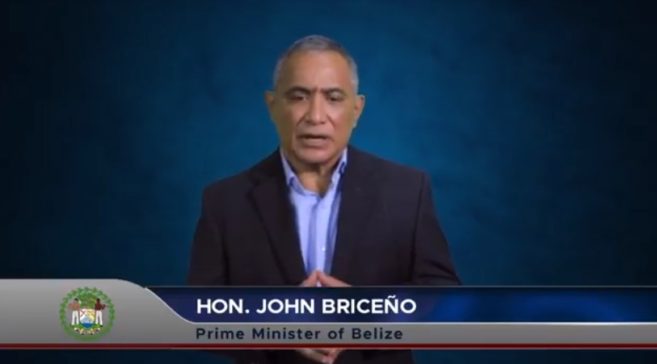 Given the global scale of the pandemic, a truly international and multilateral response is required to ensure that all countries are able to respond and recover from the pandemic. The Special Session on COVID-19 is an opportunity for heads of state and government of all UN members to assess and enhance the international community's response to the pandemic.
Prime Minister Briceño underscored the deep and devastating impact the COVID-19 pandemic is having on small island developing states like Belize, which are already reeling from the catastrophic impact of climate change. The Prime Minister called for the crises of COVID-19 and climate change to be turned into an opportunity to address the institutional and systemic challenges that countries like Belize face including indebtedness, limited fiscal space, climate vulnerability, and inaccessibility to concessional financing.
https://drive.google.com/file/d/1dZuT3t3GExDHjS2XAMfKGbttF_hQnRIn/view
Prime Minister Briceño also spoke in his capacity as Chair of the Alliance of Small Island Developing States (AOSIS).
Follow The San Pedro Sun News on Twitter, become a fan on Facebook. Stay updated via RSS