UNICEF representatives deliver school bags for island children
Tuesday, December 1st, 2020
As a Child-Friendly municipality, San Pedro Town received 200 school bags on Monday, November 30th, from the United Nations Children's Fund (UNICEF). UNICEF representatives travelled to the island, where they handed over the bags to Mayor Daniel Guerrero. The bags will be distributed by the San Pedro Town Council to children in need on the island and Caye Caulker. The bags contain hygienic and educational items.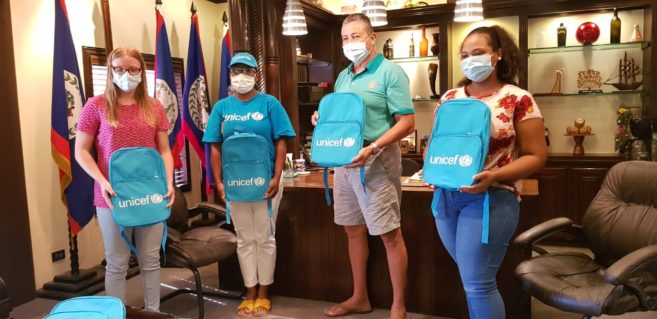 UNICEF's Monitoring and Evaluation Specialist Paulette Wade shared that such an initiative took place in all municipalities across the country. In San Pedro, they were in touch with the Child Advisory Body, present in every municipality, who stated they wanted to do something for children stuck at home, including those in nearby Caye Caulker. Wade said that along with the National Committee for Families and Children, U.S. Aid, and the Sustainable Child-Friendly Municipalities, they purchased 2,000 school bags.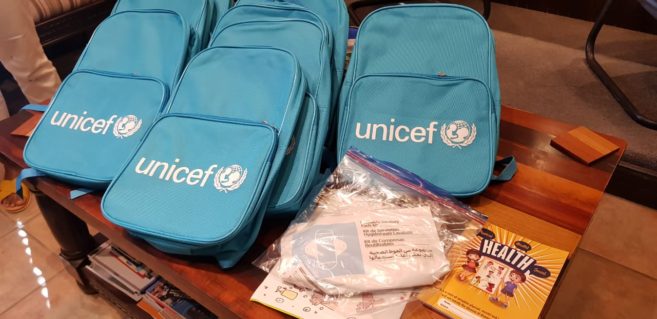 The content in the bags is courtesy of UNICEF and the respective municipality. UNICEF also provides hygienic menstrual kits for young girls. According to Wade, there are reusable pads that girls can use during natural disasters or economic crises. The bag also includes books with lessons about health and how to stay healthy. The SPTC will provide educational supplies such as exercise books, pencils/pens, note pads, and other school supplies.
Wade added that there is a need to re-evaluate child-friendly spaces due to the current COVID-19 pandemic. "We have to ensure there is social distancing, no contact, and kids remain sanitized," she said. Wade believes that there is also the need to hire security guards to guarantee children's safety when out at public playgrounds.
San Pedro committed to being a Sustainable and Child-Friendly Municipality in September 2014. The island municipality pledged to adopt policies that ensure every child lives in a safe, healthy, and crime-free environment. The initiative was led by UNICEF, the United Nations Development Programme, the Belize Mayor's Association, and the Government of Belize.
Follow The San Pedro Sun News on Twitter, become a fan on Facebook. Stay updated via RSS