Environmental authorities condemn handling turtle hatchlings; it is illegal and harmful for baby turtles
Thursday, August 19th, 2021
Videos and images on social media of people handling baby sea turtles have prompted the Belize Fisheries Department and the Hol Chan Marine Reserve to launch an investigation into this practice, which is illegal under the Fisheries Resources Act No. 7 of 2020. Observation of wildlife is encouraged, but without human interaction, as these creatures must follow their natural life cycle.
Regulation #10 of Statutory Instrument No. 66 of 2020, under the Fisheries Resources Act, states that no person shall take any turtle found on land, interfere with any turtle nest, or possess any turtle eggs, except under written permission from the Fisheries Administrator. In addition, no person shall fish for turtles in the waters of Belize, or buy, sell, or have in possession any turtle of the following species:
Eretmochelys imbricata (Hawksbill Turtle)
Caretta caretta (Loggerhead Turtle)
Chelonia mydas (Green Turtle)
Dermochelys coriacea (Leatherback Turtle)
The images and videos of people handling baby turtles emerged on social media on Wednesday, August 18th, and were shared by what appears to be tour operators. These posts have since been removed. One of them is shown releasing baby turtles, while another promoted excursions to see them; however, the images showed people handling the fragile creatures.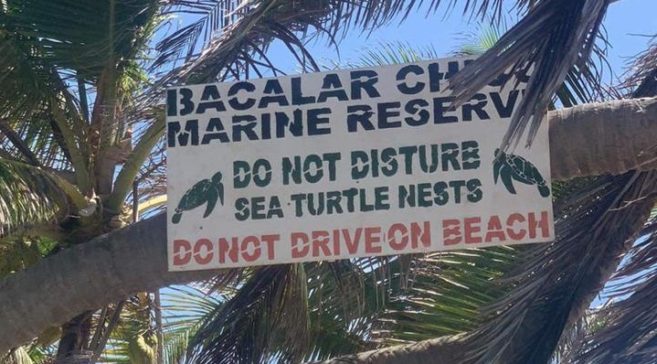 Handling baby turtles can be harmful
The Hol Chan Marine Reserve manages a turtle nesting monitoring program on the island and stated that the social media images of people interacting with wild baby turtles took place off Ambergris Caye. They condemn such actions and said they would approach those involved.
Vice President at Oceana Janelle Chanona stated that such behavior should not be encouraged, and they are against such practice. Founder and Executive Director of the environmental organization ECOMAR Linda Searle said that it is always best to observe and social distance from wildlife. She shared some guidelines about sea turtles. Some of these indicate that wild turtles should never be touched or fed. Turtle eggs and hatchlings should be left undisturbed. People are urged not to interfere with their crawl to the sea as this could jeopardize their survival. Hatchlings should never be flash-photographed as they are susceptible to light.
The only time you may interact with hatchlings is if they appear disoriented or are in danger. If they are disoriented due to a light source preventing them from heading to the sea, place yourself between the hatchlings and the light. If the lights can be dimmed, do so, and the baby turtles will then have a better to crawl in the right direction to the sea.
Sea turtles are endangered species, and their conservation is vital. Government and non-governmental organizations implore the public to abstain from interacting with this sensitive wildlife. On Ambergris Caye, if anyone sights hatchlings or a nest, they are asked to contact Hol Chan at 226-2247. The Fisheries Department also advises the public to report any illegal fisheries activity by calling telephone number: 224-4552 or by email [email protected].
Follow The San Pedro Sun News on Twitter, become a fan on Facebook. Stay updated via RSS