Visitors to northern beaches asked to NOT LITTER; these are sea turtle nesting grounds!
Thursday, May 13th, 2021
A group of island residents made it their task to clean up a popular beach area by Robles Point in northern Ambergris Caye filled with rubbish. Many of the discarded items are non-biodegradable and pose a threat to the delicate natural environment and the nesting grounds frequented by sea turtles each year. If this practice continues, it will tarnish the natural beauty of these beaches, and sea turtles may never return to nest. Persons visiting this area of the island need to do the right thing and not leave their garbage behind after picnicking.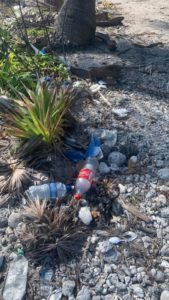 Islander Elito Arceo visits the area often and was disappointed when he stumbled onto the eyesore. Items left behind included plastic bottles, rum bottles, disposal plates, soda cans, and even used diapers. According to Arceo, these beaches far up north have always been popular, particularly on weekends. The area is isolated from the hustle and bustle of San Pedro Town and provides visitors with total tranquillity and natural beauty. The problem, however, is that after a day enjoying these remote beaches, people do not pick up their rubbish. Instead, they leave it there, becoming a hazard and an eyesore. Anyone driving up there to enjoy a family day needs to leave the area clean, and if they see a turtle nest, not to disturb it. It is illegal and can lead to a fine and imprisonment if found disturbing the site or with turtles.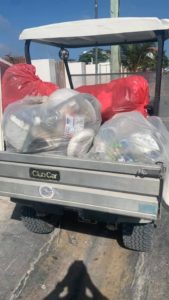 Robles Point is one of the few remaining turtle nesting grounds. The nesting season usually begins in May through November. According to records from the Hol Chan Marine Reserve (HCMR), the main nesters are Loggerhead and Green turtles. Hawksbill turtles make rare visits. These turtles are endangered species and protected in Belize. In the past, turtle nesting was reported close to San Pedro; however, development has pushed turtles to nest farther north, where there is less contact with people. The fear is that if development continues and/or people visiting these areas continue to pollute it with rubbish, turtles may stop coming to these shores to lay their eggs. HCMR has indicated that garbage may also interfere with the successful hatching of the nests. Keeping the area clean is the best way to conserve the beauty of this distant piece of paradise, a haven for sea turtles.
People visiting this area are again reminded to be responsible, take care of the environment, and not be a litterbug. Pick up your rubbish!  To report any turtle nests or stranded hatchlings and even evidence of turtle tracks on the beach, call HCMR at 226-2247.
Follow The San Pedro Sun News on Twitter, become a fan on Facebook. Stay updated via RSS