SPTC tackling the Sargassum issue with a new response plan
Tuesday, February 21st, 2023
With the change in weather and the windy days associated with this time of the year, San Pedro, Ambergris Caye, and other parts of the country are beginning to experience the constant influx of Sargassum seaweed. The San Pedro Town Council (SPTC) has started working with experts to find ways to keep the downtown beaches free of the brown seaweed. A temporary Sargassum barrier has been installed between the Mayan Princess Hotel beach and the municipal dock near Central Park. This mechanism is to facilitate the removal of Sargassum.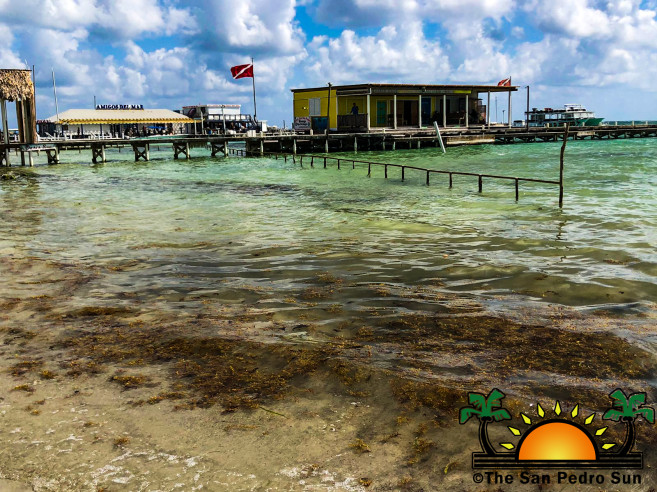 According to the SPTC, the barrier will guide the Sargassum algae to designated areas for easier removal from the beach. The personnel involved in the project indicated that such a strategy would not only 'funnel' the seaweed to collection areas but avoid the need to rake large portions of the shore. The raking practice contributes to erosion as it removes sand. The SPTC team also believes with designated Sargassum collecting areas along the beach, heavy machinery will not be needed. The use of large vehicles also causes further damage to the beach instead of helping to address the issue of erosion.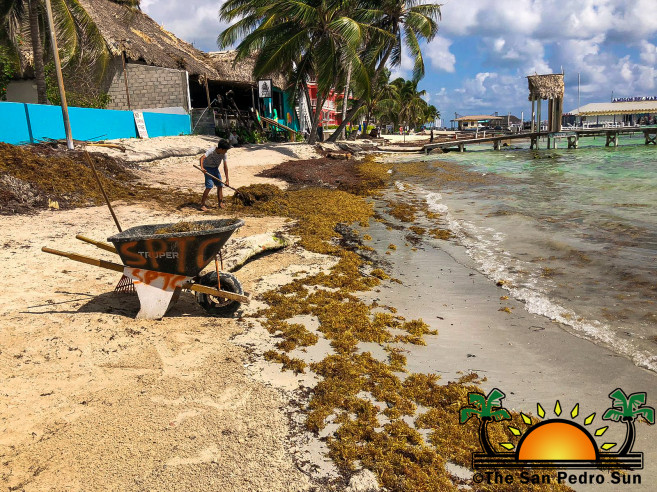 The upcoming Sargassum season has been considered by those studying the phenomenon as a record cycle this year due to climate change. They say the rise in the world's oceans' temperatures creates perfect conditions for more seaweed to grow.
Over the past several weeks, the seaweed has been sporadically beaching the shores. Those periods have made it excellent for beachgoers, with minimal traces of the foul-smelling seaweed. However, this week, the National Meteorological Service of Belize cautioned on the possibility of more and larger mats of Sargassum washing ashore.

The SPTC asks residents for patience and understanding as their team works to safeguard the island beaches. At the same time, the Town Board is consulting with leaders across the island to improve the seasonal management of Sargassum as it has become an issue affecting everyone.
Follow The San Pedro Sun News on Twitter, become a fan on Facebook. Stay updated via RSS