Sargassum a challenge once again
Friday, February 10th, 2023
The return of sargassum to the shores of Ambergris Caye is once again a challenge. One of the reasons speculated for the increase is the windier days. According to the National Meteorological Service of Belize, moderate easterly airflow exists, blowing the seaweed to shore. Recent studies by the University of South Florida Optical Oceanography Laboratory show that the overall sargassum quantity in the Atlantic Ocean doubled from December to January (8.7 million tons), again setting a record previously observed in January, noting 6.5 million tons in 2018. The report indicates this is the second consecutive month of doubling sargassum, previously observed only in 2018. All indications are that this biomass will continue to accumulate and migrate westward over the next several months, bringing more brown algae to countries with a Caribbean coast like Belize.

In late 2018, the Cabinet under the past administration approved a set of relief support mechanisms, including a four-month hotel tax relief for accommodations situated on the beachfront and a duty exemption facility for machinery and equipment imported to support clean-up efforts of the sargassum. In addition, BZ$1.5 million was allocated to support municipalities for beach clean-ups. However, there have reportedly been no reports on such financial assistance, and the current administration has yet to see a proper plan to tackle the new sargassum period.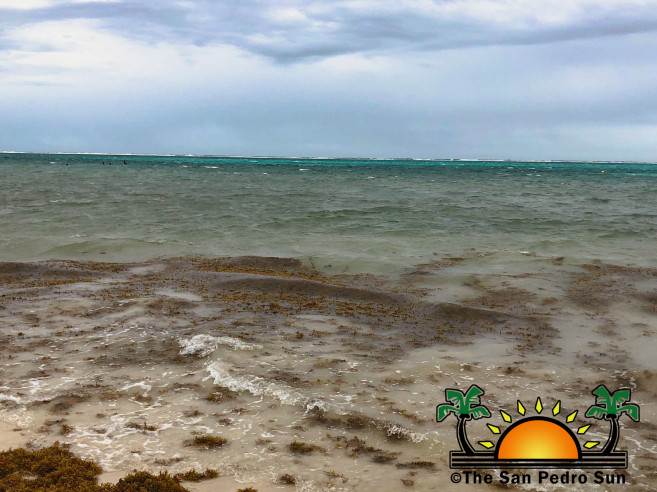 In the meantime, beach hotels continue to keep their beachfront areas sargassum free. Despite the unwelcome seaweed washing ashore daily, tourism seems unfazed. However, it is becoming a costly issue for tourism stakeholders.
San Pedro Town Council (SPTC) beach crews continue to work hard to keep the beaches free of the brown seaweed. To have less impact on the beaches, the SPTC no longer uses heavy machinery to clean them. Instead, they are using carts that cause less damage and decrease threats of erosion. SPTC says they need support from the wider community and can be reached at 226-2198 or at their offices on Barrier Reef Drive if anyone wants to assist with the removal.
Follow The San Pedro Sun News on Twitter, become a fan on Facebook. Stay updated via RSS