ACES Wildlife Rescue and HCMR assist Green Turtle in distress
Sunday, July 30th, 2023
A distressed female adult Green Sea Turtle was assisted on Tuesday around 6:30PM after being rescued from the lagoon side near downtown San Pedro. Members of ACES Wildlife Rescue spotted the troubled turtle and monitored its safety until personnel from the Hol Chan Marine Reserve (HCMR) arrived. The injured turtle was taken to Hol Chan's base for evaluation and transported to Belize City, where the Fisheries Department will observe her.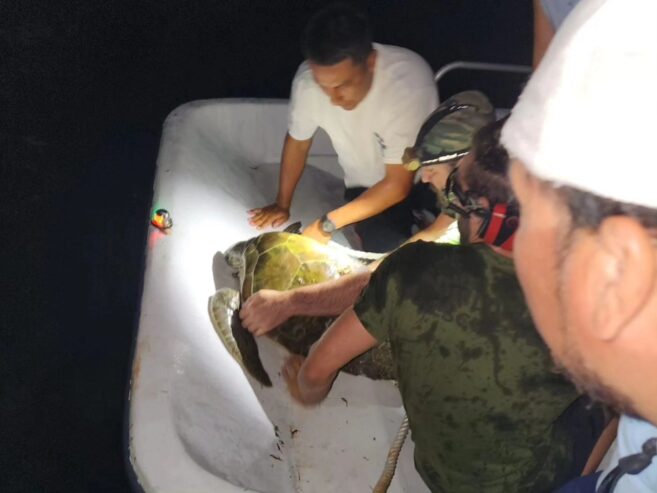 The ACES team, headed by Chris Summers, said they monitored the turtle until sunset as they kept in touch with Hol Chan. When they arrived, ACES assisted in catching the distressed animal. They maneuvered their boat carefully, got a good hold of her, and observed a healing propeller strike across the carapace. The turtle was carefully handled, placed in the boat, and examined. Afterward, it was handed over to Hol Chan.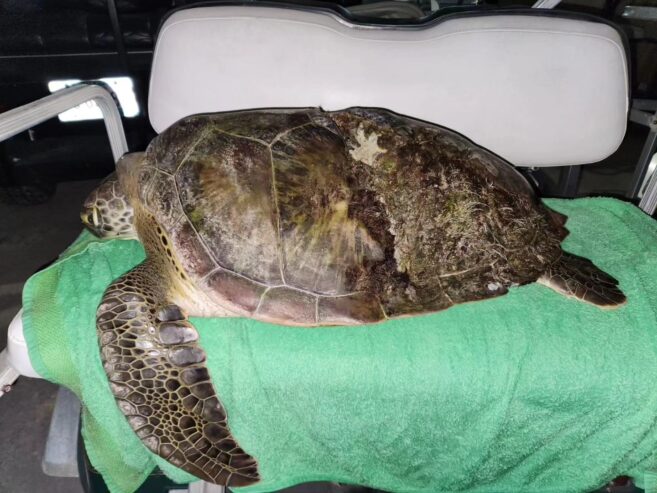 According to the department at HCMR handling their turtle program, they noticed that the animal had signs of Floater Syndrome, with a reportedly difficult time swimming underwater. The Hol Chan crew believes the turtle has gas trapped in its intestine or elsewhere in the shell cavity. Another hypothesis is that the poor animal could be suffering from a blockage (constipated). With the turtle now in the care of the Fisheries Department, they hope she recovers soon and returns to her natural habitat. A representative from Fisheries stated that the turtle is under observation and will undergo medical checkups.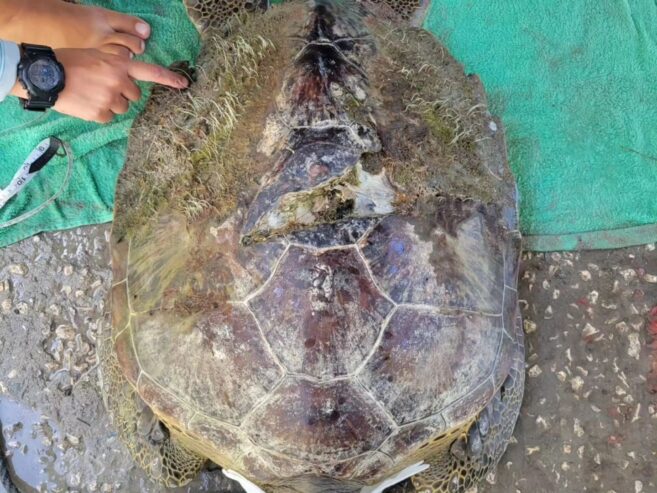 Floater Syndrome has recently been observed in Green Turtles across the Caribbean and other parts of the world. Marine biologists in the Caribbean and North Borneo Biostation in Malaysia conclude that the cause of gas buildup can be plastic consumption. They say this can keep green turtles from diving underwater to get food. They added that consuming marine debris can be hazardous for these creatures. Thus, the call to everyone is to try to keep the oceans and waterways garbage-free.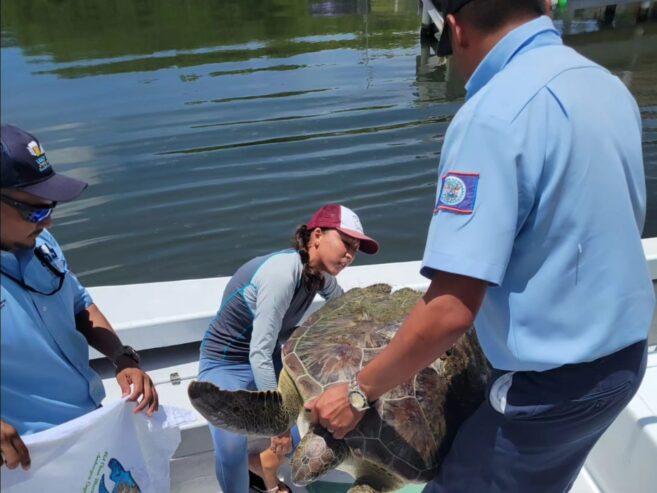 The HCMR thanked ACES Wildlife Rescue for their assistance. They encourage the public to be vigilant in the waters if they notice a marine animal, such as a sea turtle in distress, to contact them at 226-2247. People in other parts of the country can reach the Fisheries Department at 224-4552.
Follow The San Pedro Sun News on Twitter, become a fan on Facebook. Stay updated via RSS