Sea Cucumber fishing license delayed issued for 2014
Tuesday, December 31st, 2013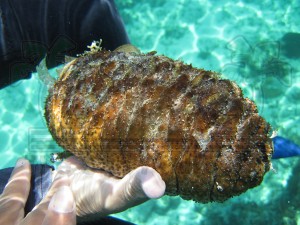 2014 fishing licenses for Sea Cucumbers (Holothuroidea) will not be issued on January as scheduled. In a press release sent out on December 27, 2013, the Belize Fisheries Department stated that no Sea Cucumber fishing or export license will be issued since the Sea Cucumber fishery will remain closed until further notice. This is due to the need to assess the ecosystem of Sea Cucumbers in Belize in order to determine if the industry is sustainable to Belize's marine life.
Sea Cucumber is a delicacy in both Asia and Central America, and buyers pay top dollar. The market for them is quickly growing, and the increasing demand for the product is causing overfishing in many countries. Asia alone consumes 95% of the world's Sea Cucumber export.
According to Fisheries, it is very important to assess the sustainability of the product before the season can open. Sea Cucumbers are a delicate species that need to be harvested by hand. They are found in nearly every marine environment, but are most diverse on tropical shallow-water coral reefs. Dried before exports, Sea Cucumbers can be a major source of revenue for the country, but close monitoring is needed to prevent overfishing and resource depletion.

Until the Sea Cucumber fishery reopens, the public is reminded that it is illegal to fish without a license. Fisheries laws will be applied to persons caught fishing illegally.
Follow The San Pedro Sun News on Twitter, become a fan on Facebook. Stay updated via RSS