Harrison 'Bin' Jacobs charged for Murder
Thursday, February 24th, 2011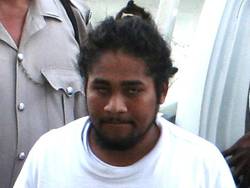 Harrison Jacobs, 22-year-old San Pedro resident appeared at the Magistrate's court in Belize City on Thursday February 17th, 2011 to answer to charges of murder for the death of 20 year old Francis Alexander Figuerroa Cardenas, in late November of 2010.In the early morning of Sunday, November 28th, three gunshots were heard in that area towards the lagoon off Jew Fish Street. Shortly after, another gunshot was heard.
Official reports were that some time before 5:40am on Sunday, November 28th, police were called to the corner of Seaweed and Sand Piper Streets in the San Juan Area of San Pedro Town. There, Police observed a dark skinned person of Creole descent, leaning in a sitting position on a blue concrete fence with what appeared to be a single gunshot wound to the head. The man who was known to police as Bejon Wade was later identified as 20 year old Francis Alexander Figuerroa Cardenas. Mr. Cardenas is of a Belize City address, but was reportedly working on Ambergris Caye.
Cardenas was allegedly beaten and tortured off an isolated road in the San Juan area after which he escaped and was running for his life when his attackers caught up with him just outside his area of residence. He was shot in the head and left to die.
When police arrived at the scene, Mr. Cardenas was still alive. He reportedly succumbed to his injuries around 7:15am on Sunday, while undergoing treatment at the San Pedro Poly Clinic II. His body was taken to the Belize City morgue where a post mortem examination was conducted and declared that he died from massive brain damage caused by a gunshot wound to the head.
At the Magistrates court, Mr. Jacobs was charged for the crime of murder. Due to the nature of the crime, no plea was taken from Jacobs and bail was denied. He was remanded into custody at the Hattieville Prison until March 17th, 2011 when he is scheduled to re-appear in court.

Follow The San Pedro Sun News on Twitter, become a fan on Facebook. Stay updated via RSS