Hilal Nasser injured in weekend stabbing incident
Wednesday, June 20th, 2012
A seventeen year old Mechanic of San Pedro Town has been incapacitated following a stabbing incident over the weekend. Reports are that 17 year old Hilal Nasser was attacked by a known assailant who inflicted multiple stab wounds to him on Saturday, June 16th around 3pm.
According to 17 year old Hilal he was attacked on the southern end of Barrier Reef Drive while en route to Boca del Rio; "I was in front of Skybox fixing a golf cart. That's my job. I work as a mechanic for my dad's company. I was going to drop off some tools at Boca. I was going on my way by Holiday Hotel when I received a call, so I was parking on the side and I answered the phone. It was my brother, so I talked to him and he said he needed a cart. So this guy he was walking on the sidewalk and he was cursing all kinds of things. When I was talking on the phone, he was cursing at me. When I get out of the cart, he came close to me and stabbed me in my belly and then that's when I grabbed him in his neck. When I put pressure to him, though my wound started to bleed more and then I loose strength so I had to let him go, this was when he punched me and then he scratched me and things."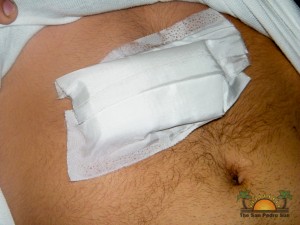 According to Nasser, the he could not have provoked the assailant through his conversation as he was speaking to his brother in a language other than English. Hilal admits having seen the individual around the island but recalls having no precious interactions with him. Once his weakening forced him to release the assailant, the assailant then made good his escape through the beach. Hilal and his brother who had arrived by that time followed the perpetrator to a bar on the beach where he found refuge. Hilal further stated that he and his brother were asked to leave the premises while the assailant made good his escape through the street entrance to the establishment. Nasser and his brother got on their golf cart and followed the assailant as he ran towards San Pedrito. In his state, he had not noticed exactly how much blood he had lost until he became very weak and had to stop. Nasser received two stab wounds, one to his stomach area and one to his neck, along with scratches. Nasser was accompanied by his father to the Belize Medical Associates in Belize City where his wounds were classified as grievous harm. A report was filed with the San Pedro Police Department prior to their leaving the island.
According to Nasser's father, his other son, Jamal called him on Saturday the 16th around 6pm to inform him that he had seen the individual that stabbed his brother walking around the street. Jamal made after the perpetrator and called the police. He chased after him through the middle street where he ran into A&R and hid until the police showed up at the scene and arrested him. According to the San Pedro Police one Carmen Jimenez, a 23 year old resident of a DFC area was arrested on Saturday June 16th and charged for wounding. The charges however were upgraded to grievous harm for the stabbing upon Hilal Nasser. He is scheduled to appear in the San Pedro's Magistrate's Court on Thursday June 21st.
Hilal is presently confined to his apartment has been ordered to rest for the next two months.
Follow The San Pedro Sun News on Twitter, become a fan on Facebook. Stay updated via RSS