Officer Yannick Wade charged for theft of guns and ammunition
Monday, May 5th, 2014
According to a report issued at 11:25AM on Monday, May 05, 2014, Belize City police have arrested and charged one of their own for the offence of "two counts Kept Firearm without a Gun License and two counts of Kept Ammunition without a Gun License". Yannick Wade, 27-year-old Belizean Police Officer of Belize City, is also being charged for the crime of theft by San Pedro Police as they continue their investigations into the loss of eight (8) .38 revolvers and 101 .38 live rounds, property of KBH Security, and lost from the San Pedro Police Station. He was formerly attached to the San Pedro police precinct.
Officer in Charge of the San Pedro Police Department, Superintendent of Police Luis Castellanos told The San Pedro Sun that as of Monday, May 5th, around 4PM, Wade had received a total of 13 charges: two counts Kept Firearm without a Gun License, two counts of Kept Ammunition without a Gun License, eight counts of theft and one count of theft of loaded ammunition. Castellanos further went on explain that he had received several complaints about Wade while he was in the San Pedro Police Formation. "We currently do not believe that there are any other culprits on the theft of the fire arms. What PC Wade has done is a grave incident for the Police Station and he will be prosecuted to the full extent of the law," said Castellanos. Wade will face trial at the Belize City Magistrate Court, and if found guilty, his dismissal from the Police Force will be requested. "We believe he committed this offense for personal gain and now for his errors there are six firearms that may be in the possession of criminals."
Castellanos also stated that eight surveillance cameras have been installed in the Police Station to prevent similar incidents from occurring. The surveillance cameras were donated and installed courtesy of Xtreme Geeks. "I don't think that this has affected the relationship between the community and the police, but we will still be taking extra measures in strengthening the relationship," said Castellanos.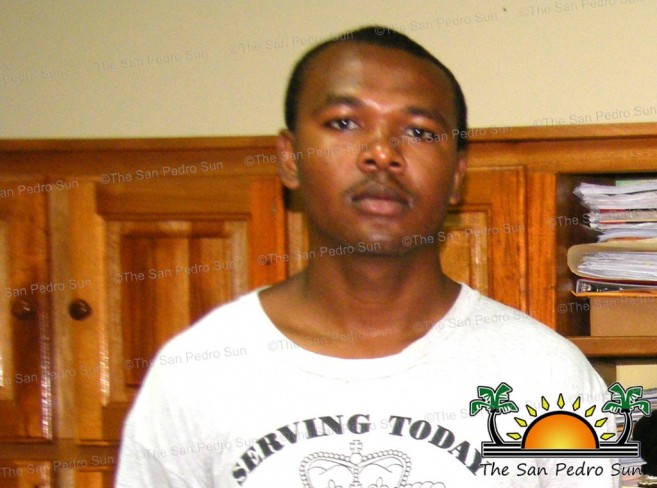 On Saturday, May 3rd, reliable sources indicated to The San Pedro Sun that two of the missing eight firearms were found in Belize City on Cemetery Road. The guns and ammunition were apparently stolen from the San Pedro Police Station sometime between the evening of Wednesday, April 30th and the morning of Friday, May 2nd. Belonging to KBH Security Firm, the guns and ammunition were routinely dropped off in a 2 foot by 1 foot metal box installed by the same firm inside the station. When Mr. Daniel Tun, Supervisor at KBH went to retrieve the items at 7AM on Friday May 2nd, he discovered that the items were missing and notified the police.
About Officer Wade
In February, 2013, Officer Yannick Wade was freed of charges of carnal knowledge when he appeared before Judge Troadio Gonzalez. He had been accused of allegedly having sex with a 13-year-old minor on six different occasions between the period of June 21, 2009 and March 2011. The report against Wade was made in 2011, when the minor was 15 and allegedly pregnant with his child.
Represented by attorney Arthur Saldivar, Wade faced Judge Gonzalez and was informed by prosecutor Leroy Banner that the two main witnesses in the case could not be located, the case had to end in a nolle prosequi (Latin: do not prosecute).
In April of that same year, Wade was transferred to the San Pedro Police Department along with five other officers. He was previously part of the Criminal Investigation Branch of Belize City, but came to the San Pedro precinct as part of the new addition to serve as a relief and/or patrol officer.
Follow The San Pedro Sun News on Twitter, become a fan on Facebook. Stay updated via RSS