Officer implicated in missing guns and ammunition from San Pedro Police Dept
Saturday, May 3rd, 2014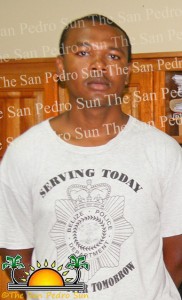 Have Belize City Police recovered two of the eight stolen guns missing from the San Pedro Police Station? Reliable sources have indicated to The San Pedro Sun that they may have indeed found two firearms on Cemetery Road, Belize City. The firearms were reportedly in a lot behind Atlantic Bank, and have been identified as belonging to the cache that went missing between Wednesday evening and Friday morning from the San Pedro Police Station.
According to our sources, Police Constable #1332 Yannick Wade is one of the people detained. While our sources cannot confirm if PC Wade took the firearms, it is believed that he was involved in their disappearance as he was at the location where the firearms were found. PC Wade joined the San Pedro Police formation in April of 2013, after being transferred from the Criminal Investigation Branch in Belize City.
The eight .38 caliber revolvers and 101 rounds of ammunition were apparently stolen from the San Pedro Police Station sometime between the evening of Wednesday, April 30th and the morning of Friday, May 2nd. The items belonged to KBH Security Firm, and were routinely dropped off in a 2 foot by 1 foot metal box installed by the same firm inside the station. When Mr. Daniel Tun, Supervisor at KBH went to retrieve the items at 7AM on Friday May 2nd, he discovered that the items were missing and notified the police.
Officer in Charge of the San Pedro Police Department, Superintendent of Police Luis Castellanos refused to give an interview to The San Pedro Sun on May 2nd; however he told a Belize City media house that an investigation has been launched. Castellanos also believed that the firearms and ammunition were no longer on the island, as the island is "very porous". He indicated that this incident has cracked the integrity of the Department, and that when the culprits are found, they will be charged criminally.
The San Pedro Sun will continue to follow this story and report on developments.
Follow The San Pedro Sun News on Twitter, become a fan on Facebook. Stay updated via RSS