Two detained following armed robbery at Wayo's Beach Bar and Grill
Monday, May 28th, 2018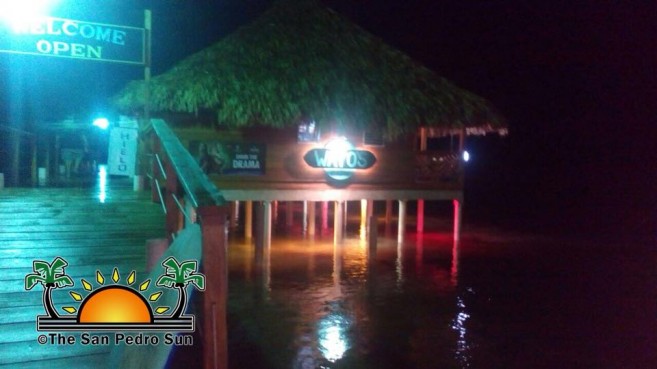 Police have detained two persons in connection with the armed robbery at the popular Wayo's Beach Bar and Grill on Friday, May 25th. According to reports, two masked dark skinned men surprised patrons and staff at gun point around 11:20PM, demanding money. During the hold-up, 26-year-old bartender Osner Campos was injured from a gunshot ricochet to the back of his head. Immediately after the thieves left with an undisclosed amount of cash, Campos was taken to the Dr. Otto Rodriguez San Pedro Polyclinic II. He was later airlifted to the Karl Heusner Memorial Hospital in Belize City where he was listed in a stable condition. Campos recovered quickly, and by Monday, May 28th, he was released from the hospital.
Initial investigation reveals that police first became aware of the incident when they visited the Polyclinic and observed Campos with the apparent gunshot injury. When police visited the establishment located in Boca del Rio and did their preliminary investigation, they learned that shortly after 11PM following a heavy rain, two masked male persons entered the business. The official police report states that one of them was armed with a chrome colored pistol resembling a 9mm, while the other perpetrator appeared to have a sawed-off shotgun. The assailant with the pistol proceeded to the bar area where he demanded the contents of the cash register. He instructed the bartender to put the money in a bag he had, while his colleague waited at the entrance of the bar. While the cash was being retrieved from the register, the person with the pistol fired a shot towards the bar area. The bullet ricocheted, hitting Campos to the back of his head. The two assailants then made good their escape.
The two suspects detained are being interrogated regarding the circumstances surrounding the incident, and police at this moment have refrained from providing further information.
Islanders are greatly concerned about this recent spree of crime on Ambergris Caye. Citizens are saying more police patrolling needs to be done, especially in commercial areas prone to robberies. They add that the tourism police should be monitoring any suspicious activities near businesses in order to deter future incidents in which not only staff members, but patrons can be injured.
The most recent robbery on the island took place on Saturday, May 19th at the Caribeña Fuels Gas Station, south of San Pedro Town. In the incident, a pump attendant suffered a cut to his neck and was treated at the Polyclinic. Police investigation led to the arrest of Zimmer Perez, Jair Brown, and Arrie Gentle, who were charged with two counts of robbery, while Perez was charged with the crime of wounding. On Tuesday, May 22nd, the trio were released after securing bail at the San Pedro Magistrate Court. They are to return to court on June 25, 2018, for a disclosure.
Follow The San Pedro Sun News on Twitter, become a fan on Facebook. Stay updated via RSS