Jennessa Sierra of SPRCS ties for 2nd in PSE countrywide
Friday, June 7th, 2013
The Primary School Examination (PSE) results are out and one student from Ambergris Caye is amongst the highest in the country. The overall results were announced late on Friday June 7th by the Ministry of Education. Jennessa Sierra of San Pedro Roman Catholic School (SPRC) is among the top five students countrywide.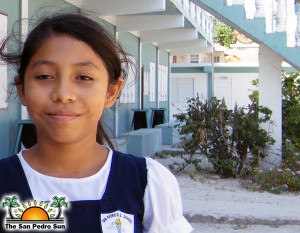 A quick look at the results show that from the list of the top 26 performers, 13 were registered in the Belize District. Sierra received a total of 386 points out of a possible 400 points and tied with Nelson Esteban and Vicente Hulse of Saint Andrews Anglican School in the Cayo District, and they all placed second place nationally. "It feels great and I am amazed. I knew that if I put my all I would do good. I didn't expect to do so well!" said an excited Sierra. "I want to thank my parents, teachers, friends and everyone who helped me." Sierra had just found out about her score minutes before her interview with The San Pedro Sun. "This means a lot to me and I don't have words to describe how I feel," added the 13-year-old. Sierra told The San Pedro Sun that she plans to attend San Pedro High School.
Bernice Yorke in Belize City had two students in the list of top students, and Ye Siyun took the top honors in the country.
Of the 26 top students, 9 were registered in Cayo, 1 from Stann Creek, 1 from Orange Walk, 1 from Corozal and 1 from Toledo. A total of 7,973 students sat the PSE in 2013.
Look for a more comprehensive story on Monday in The San Pedro Sun.
Follow The San Pedro Sun News on Twitter, become a fan on Facebook. Stay updated via RSS