Ambergris Caye Educators join Belize District Teachers Protest
Wednesday, January 22nd, 2014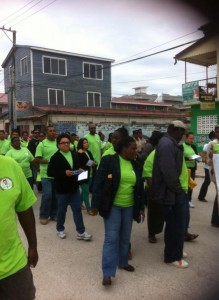 The Belize National Teachers Union (BNTU) is continuing their initiative for a salary adjustment and on Friday, January 17th, hundreds of teachers converged in Belize City for the second teachers protest demanding the Government of Belize to adhere to their concerns. Attending the protest were teachers from San Pedro Town and Caye Caulker Village who walked in solidarity for the cause. The protest commenced at Constitution Park and ended at the Battlefield Park. The countrywide strategy began on Friday, January 10th, when teachers from Corozal and Orange Walk District banded together in protest.
According to the BNTU, the protest was not only to demand a salary adjustment but for overall social justice. Since 2008, BNTU has been demanding better working terms, including a raise in pay. On October 9, 2012, GOB and BNTU signed an agreement to open negotiations, and since then, the GOB has agreed to a salary adjustment but not exactly the amount the teachers were hoping for. BNTU expressed disdain towards the GOB's decision to not meet the teachers' minimum requirement and as such they continue fighting for what they believe is a just cause.

Among the San Pedro teachers that travelled to Belize was the Dean of San Pedro Junior College, Gustavo Ellis. "Have you heard the saying that teaching is an ungrateful profession? Well that's what the issue is. We teachers literally become parents to students. We work so much that now, after looking at the other countries; we have become the voice of the voiceless. And today that's what we are doing; not only our cause, but other causes as well," said Ellis. The protest was also aimed to raise overall awareness on improper working conditions for all government and social workers.

Citizens Organized for Liberty through Action (COLA) also joined in the protest. COLA President, Geovanni Brackett stated that only through unity can the workers' voices be heard. "The minimum wage needs to go up. This is ridiculous, the cost of living has sky rocketed and people can no longer survive on this small pay. So we call on all the unions and all the social partners. Let us take action and let us take action now," said Brackett.
The protest will continue on Friday, January 24th in the Cayo District and will end on Friday, January 31st with the southern districts of Stann Creek and Toledo.
Follow The San Pedro Sun News on Twitter, become a fan on Facebook. Stay updated via RSS