Ocean Academy celebrates 7th Annual Scholarship Awards Ceremony
Monday, June 22nd, 2015
On Saturday, June 13th, Caye Caulker's Ocean Academy held its 7th Annual Scholarship Awards Ceremony, where five youth were honored. The awards ranged in a wide category, from curricular excellence to community involvement. An addition five students were also recognized during the ceremony for obtaining Full Basket Belize scholarships of $1,000.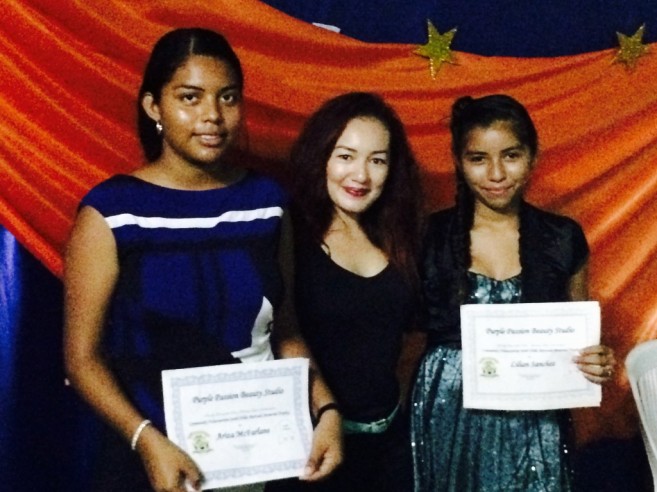 Mistress of Ceremonies, Anissa Martinez led the event. After a speech on the importance of scholarship by Ocean Academy's, the awards were officially handed over. The Charismatic Leadership Award went to Patrick Lorenzo. Polished Speaker award went to Daya Ramos, while Johnny Cantun took the Ambassador of Ocean Academy on Open Your Eyes award. Lilian Sanchez won the Professional Student Award as well as the Purple Passion and Hilda Marczak Memorial Award together with Ariza McFarlane. Annabella Requena and Mathew Sandoval were the joint winners of the Spirit of Caye Caulker Award and Island Pride award. Recipients received fabulous prizes sponsored by the Caye Caulker Business Community.
The five students that received Full Basket Belize are Annabella Requena, Lilly Alamina, Kimberly Sotz and Milvia Reyes (all renewed applicants) and Adaly Cartagena, a first-time recipient. In order to renew for a scholarship, students had to maintain high grade point averages and demonstrate continued school and community involvement. Full Basket Belize scholarship are renewable up to high school graduation.
In September, Ocean Academy will hold an on-campus ceremony to award Honor Roll, Merit Roll, Subject Awards and Trophies to alumni.
The Ocean Academy thanks all sponsors that made the 7th Annual Scholarship Awards Ceremony possible: Belize Diving Services/Petersen Foundation, Caye Caulker Village Council, Danny Michel and Fans, Full Basket Belize, Sea Dreams Hotel, Colinda Cabanas, Pellicano Cucina Italiana, Axios Sun Coffee, David Urscheler Memorial, Natascia Silvestri & Family, Raggamuffin Sailing Tours, Ocean Academy Founders Joni Miller and Heidi Curry, De Real Macaw Guesthouse, Habaneros, Lionel "Chocolate" Heredia Memorial, Purple Passion Beauty Studio, Anonymous (Hotel), Amor y Café and Meldy's Restaurant.
Follow The San Pedro Sun News on Twitter, become a fan on Facebook. Stay updated via RSS