Ocean Academy receives two prestigious awards
Wednesday, November 12th, 2014
Caye Caulker's Ocean Academy Aquatic Tourism Program is receiving recognition both at home and abroad. Not only did the program win the International Sport for Education award at the 2014 Beyond Sports Awards, but it also won the National Youth Award from the Belize Department of Youth Service. The Aquatic Tourism Program is sponsored by the United Nations Children's Fund (UNICEF), and helps students develop entrepreneurship skills and gain experience in the tourism industry.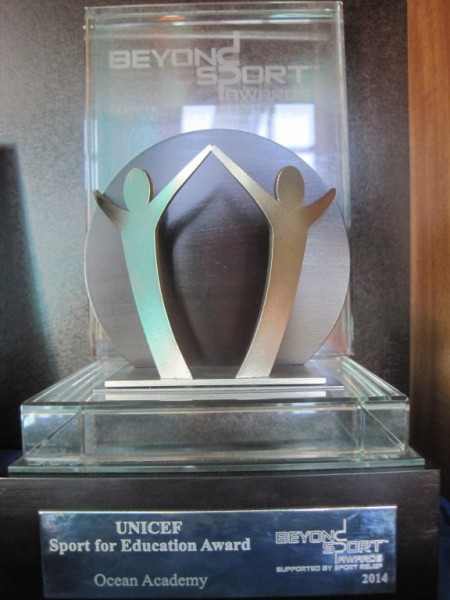 Selected from 350 entries, Ocean Academy's Aquatic Tourism Program was acknowledged as the best project from around the WORLD that uses sport to bring about a positive social change. School founders Joni Miller and Heidi Curry traveled to Johannesburg, South Africa to participate in the Beyond Sport Global Summit and Awards held from Tuesday, October 28th to Thursday, October 30th, and were on hand to receive the award. "When the winners were announced we were so thrilled. The Sports for Education award is a testimony to all our students who have worked throughout the year. We couldn't be happier," said Miller.
On Friday, November 5th Ocean Academy was nominated for yet another award. Youth Enterprise Officer worker, Umeeda Switlo nominated Ocean Academy for the Youth Enterprise award at the Belize Department of Youth Service National Awards. Miller, along with seven students, Kevin Tzax, Spenser Betz, Buddy Magana, Annabella Requena, Whitley Aguilar, Kyra Jones and Anisa McFarlane, traveled to Belize City on Friday, November 7th to attend the award ceremony and gala. At the ceremony the school once again took the win, receiving the Youth Enterprise award from both the Aquatic Tourism Program and their Culinary Herb Sales Program. "We couldn't be happier. The school has been honored twice in just a couple weeks!" said an ecstatic Miller. "The students accepted the award that recognizes the environmental aspect of both the Aquatic Tourism Program, as well as the school's other small business venture, the Culinary Herb Sales by the Compost and Gardening Club."

Ocean Academy was founded in 2008 as Caye Caulker's first high school, and soon started development elective programs to give students a more rounded education. "Students who select the Aquatic Tourism Program are mentored by skilled tour guides and earn valuable certifications in kayaking, scuba diving, fly fishing and windsurfing, all at no cost, thanks to strong partnerships with local tour operators. Workshops in entrepreneurship, marine biology, first aid, tour guiding, communication and leadership skills complement the program. Ocean Academy is instrumental in connecting students with people who can help them to follow and live their dreams. I believe that we couldn't ask for more than that, as that is what every parent and teachers wishes for the children" said Miller.
Ocean Academy strongly believed that children should receive not only the standard secondary school curriculum, but should also be taught skills that can help them in the working society. "Ocean Academy has created many opportunities for students to get involved in the tourism industry here on Caye Caulker, from conducting beach clean-ups to sharing local knowledge of island ecosystems with visitors," said Miller. "These mentorships and entrepreneurial opportunities not only attract non-traditional students to enroll in high school, but also help our students improve their overall set of professional skills that are transferable to any career or educational path they may follow." The Aquatic Tourism Program highlights the positive impact that location-based learning can have on a student's future employment possibilities and the likelihood to remain in school once he/she is engaged in real-world interactions and learning.
Since its inception, Ocean Academy has been the recipient of several awards and recognitions. Miller further elaborated on Ocean Academy's missions and success. "The Beyond Sport Award and National Youth Award are among several success stories for Ocean Academy students. Since 2009, 36 students have become certified as PADI Open Water scuba divers, 19 are advanced divers, and two alumni are Dive Masters. Six students and one administrator enrolled in a month-long night class for tour guides and community members, in 2012, to learn how to set transects and conduct surveys of invertebrates, juvenile fish, corals, commercial fish and marine mammals. They graduated as Community Reef Technicians. The Department of Youth Services even awarded Ocean Academy student Kyle Requena the 2013 National Youth in Tourism Award. After graduation, Kyle worked alongside his mentor to compete in an international fly-fishing tournament and he is now an assistant fly-fishing instructor with Ocean Academy."
Ocean Academy would like to take the opportunity to thank all its industry partners for making the Aquatic Tourism Program a huge success. Big thanks go out to: Anglers Abroad, Belize Diving Services, Kit Explorer and Dane Dingerson, Toucan Canoe and Kayaks and the Forest, Marine Reserves Association of Caye Caulker, Embassy of the United States, Belmopan, Kenco Outdoor Equipment Store in New York, USA, Jackson Kayak in Tennessee, USA, UNICEF, the Belize Department of Youth Services, Beyond Sports Award, the community of Caye Caulker and to all students of Ocean Academy.
To learn more about Ocean Academy's innovative high-school programs call the school office at 226-0321 or the Projects Director at 626-0408, or you can visit their website at www.cayecaulkerschool.com.
Follow The San Pedro Sun News on Twitter, become a fan on Facebook. Stay updated via RSS