Island youth graduate from primary school
Thursday, June 25th, 2015
Four primary school commencement exercises were held over the weekend. Standard six students from New Horizon Seventh Day Adventist School (NHSDA), San Pedro Roman Catholic Primary School (SPRCS), Isla Bonita Elementary School (IBES) and Holy Cross Anglican School (HCAS) who successfully completed their primary education were honored in a presentation of diplomas in front of family and friends. As this chapter in education closes, the new graduates now embark in their high school journey.

NHSDA held their graduation ceremonies on Thursday, June 18th at the school grounds. This year marked their 15th commencement exercise and saw 64 students graduated. The ceremonies were held under the theme "Chase your dreams, following the road to Christ". Elias Zetina was class salutatorian and delivered the welcome address, while class valedictorian went to Michael Carmona. Following the guest speaker address by Rocio Burgos, Miguel Hernandez delivered the principal's report. Naim Luna ended the ceremony with the vote of thanks.
NHSDA's graduating class of 2015 comprises of: Javier Eber, Guillen Brayan, Steven Contreras, Denzel Hyde, Derick Flores, Naim Luna, Christian Ramos, Jashua Alvarez, Mauricio Lara, Jose Ortiz, Jahphet Castillo, Gian Bonilla, Brayan Meraz, Christian Lopez, Elias Zetina, Charly Edwards, Ethan Castro, Nin Li, Jaime Ramos, Walter Luna, Michael Carmona, Ismael Bardalez, Ruben Guerra, Zian Tepaz, Luis Carcamo, Brandon Pop, Sean Mclaughlyn, Jahson Selgado, Christian Contreras, Nathalie Bacab, Kirian lopez, Britney Haylock, Keyla Garcia, Fany Fuentes, Janelie Castillo, Ashiandi Ortiz, Gissely Flores, Raquel Canaliez, Samara Ayuso, Jenna Bowen, Merelyn Brown, Doris Calix, Ruth Casildo, Loreni Castillo, Nia Figueroa, Yanira Garcia, Britany Guy, Danalyn Casimiro, Esmirna Balona, Michelle Martinez, Zulmy Bennett, Jayda Gongora, Zeldy Carcamo, Jasmin Melendrez, Virianie Mejia, Orianna Ogaldez, Aaliyah Pilgrim, Adriana Sansores, Danna Melendez, Vashlee Villiams, Natividad Cawich, Itzallana Cocom, Brian Duran and Brandon Jackson.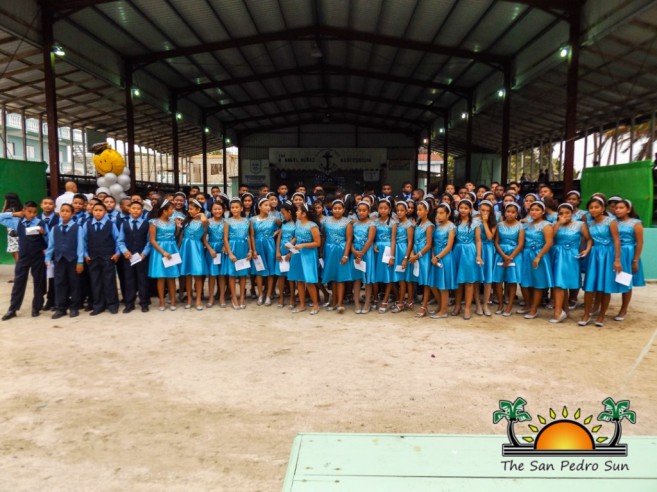 The largest graduation ceremony of the weekend was held on Friday, June 19th for SPRCS. Under the theme "Someday our dreams will take us to the heights we wish to fly, for only we have the power to make our dreams come true" the event was held at the Angel Nuñez Auditorium. Officiating the ceremony was Solani Graniel. Miguel Angel Hancock delivered the welcome address, which was followed by distribution of awards. Following the guest speaker address by Education Officer Miriam Codd, diplomas were issued out. Betty Alpuche delivered the valedictory address and then passed on the ceremonial torch to standard five top student Rachel Alamilla. The class then sang their rendition of "Count on me" by Bruno Mars. Jaslanie Kie closed off the ceremonies with the vote of thanks address.
SPRCS's graduation class of 2015 comprises of: Martha Borges, Alyssa Ewan, Abrianna Sierra, Rose Romero, Jemely Chinchilla, Mariveth Dawson, Vivian Marin, Exchel Mejia, Mayranie Hyde, Shanelly Gutierrez, Anali Godoy, Claudia Flores, Betty Alpuche, Liliana Ramos, Rachel Juarez, Ivanna Nunez, Nazzlie Patt, Bertha Espina, Denise Alfaro, Shalini Young, Gennezis Chinchilla, Aura Lopez, Tiffany Mattu, Celina Valladarez, Kristine Balam, Estefany Caballeros, Nashely Hernandez, Junior Triminio, Muhammed Harmouch, Kevin Hernandez, Oscar Ramirez, David Cadle, Alexander Ramos, Christian Medina, Elijah Martinez, Aaron Ku, Franklin Castro, Dennis Sabido, Robert Chable, Samir Nunez, Kayton Lopez, Anthony Delgado, Miguel Castillo, Jose Roca, Freddy Quinonez, Pedro Velasquez, Jairo Sandoval, Izryle Tzib, Eldrish Rabanales, Dixie Acosta, Miguel Hancock, Angelo Azueta, Bryan Lara, Yahir Sandoval, Lilianie Segura, Roana Arden, Yanairy Escalante, Josani Balam, Brittany Hernandez, Catherine Dawson, Orelia Tepaz, Wendy Lopez, Kimberly Tun, Bianca Palma, Aura Cruz, Jinae Kie, Ashley Barrientos, Jaslanie Kie, Alexie Nunez, Fabiola Herrera, Virgen Garcia, Donovan Castellanos, Mark Espat, Jeison Madrid, Jaden Jurado, Jair Banner, William Madrid, Hazeim Valerio, Ryan Sanker, Wilson Cruz, Jose Mejia, Kylin Neal, Luis Madrid, Andy Rivero, Elvin Vellos, Allan Kuylen, Ravey Azueta, Jose Henriquez, Adrian lopez, Ernest Arzu, Jonathan Alcoser, Luis McNab, Wilbert Stevens and Allison Wright.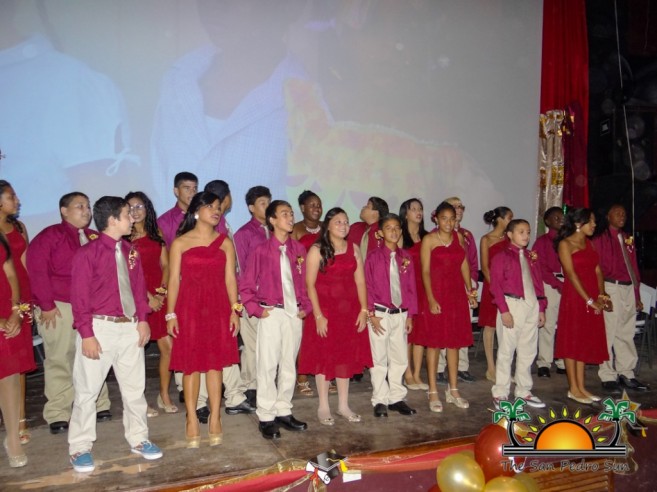 IBES held their graduation ceremony on Saturday, June 20th at the Paradise Theater under the theme "The biggest adventure you can take, is to live the life of your dreams!" Mistresses of Ceremonies Kyana Logan and Alexandia Deshield led the program. After a short welcome address by Winston Panton, Juliannie Rovero delivered the salutatory address. Addy Martinez then delivered the principal's message. Guest speaker for the event was Angel Nuñez. The class then delivered their rendition of "See you again" by Wiz Khalifa. Gaven Zapata was the class valedictoria, while Maxi Sturmberg led the candle lighting ceremony. Mitchel Sersland gave the parents' appreciation speech and Ashley Minott delivered the vote of thanks.
IBES's graduation class of 2015 comprises of: Tyrese Arzu, Wilfredo Garcia, Lyon Gonzalez, Joey Gonzalez, Deandre Gonzalez, Abner Halliday, Chadi Haramouche, Fadi Haramouche, Winston Panton, Mitchell Sersland, Maximus Sturmberg, Gaven Zapata, Jucely Badillo, Lorena Baustillo, Kyra Dawson, Alexandria Deshield, Sophie Guan, Adrianne Henkis, Giselle Lemus, Ashley Minott, Kyana Logan, and Juliannie Rivero.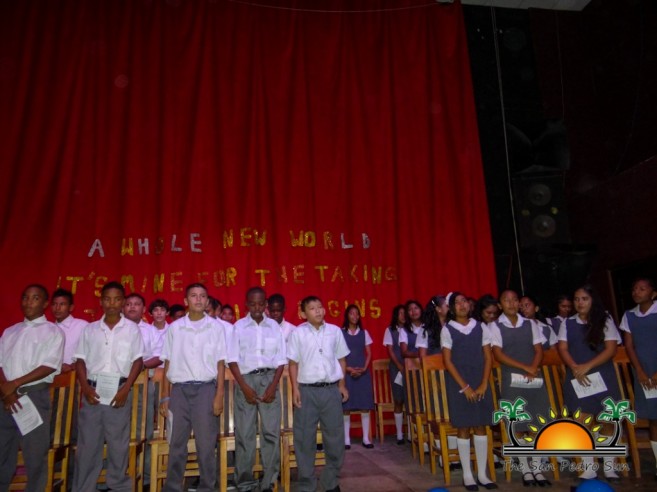 On Sunday, June 21st, HCAS held their graduation ceremony at Paradise Theater. The theme of the celebrations was, "A whole new world is waiting, its mine for the taking. I know I can make it, today my life begins". Following a short prayer by Francis Wilson, Noe Sosa delivered the official welcome address. Grace Williams then gave the principal's address. Following a tribute to the graduates by the infant division, Richard Shaffer gave the Holy Cross Education Foundation address. The valedictorian address was delivered by Mercy Chacon, who also led the torch ceremony. Loannie Skrentner was the guest speaker at the ceremony. After the distribution of diplomas and prizes, Kevin Flores delivered the vote of thanks.
HCAS's graduation class of 2015 comprises of: Sandra Alvarado, Jhoan Alvarez, Raul Argueta, Michael Brown Jr., Zian Bulnez, Kirany Call, Clifton Cain, Edward Campos, Chris Lisbey, Leonard Lopez, Alonso Mai, Alhusaan Martin, Naidelene Meza, Britney Miller, Jennifer Neal, Christian Orellana, Rosita Canek, Yubelka Cantun, Mercy Chacon, Michael Cobo, Samir Diaz, Kevin Flores, Zuleidey Gomez, Lizbeth Gutierrez, Janice Hernandez, Charity Palacio, Aureliano Pascual, Jorge Reina, John Saldivar, Noe Sosa, Kiana Thompson, Jocelyn Vasquez, Myrka Villanueva, and Delroy Zuniga.
Please help support Local Journalism in Belize
For the first time in the history of the island's community newspaper, The San Pedro Sun is appealing to their thousands of readers to help support the paper during the COVID-19 pandemic. Since 1991 we have tirelessly provided vital local and national news. Now, more than ever, our community depends on us for trustworthy reporting, but our hard work comes with a cost. We need your support to keep delivering the news you rely on each and every day. Every reader contribution, however big or small, is so valuable. Please support us by making a contribution.
Click to Donate
Follow The San Pedro Sun News on Twitter, become a fan on Facebook. Stay updated via RSS