UNC Wilmington volunteers highlight Autism Awareness
Wednesday, April 5th, 2017
Over ten volunteers from the University of North Carolina at Wilmington, USA, have spent their five-week internship visiting island schools to help bring awareness to the Autism Spectrum Disorder. As April marks Autism Awareness month, the volunteer group hosted a morning assembly on Monday, April 3rd at Isla Bonita Elementary School (IBES).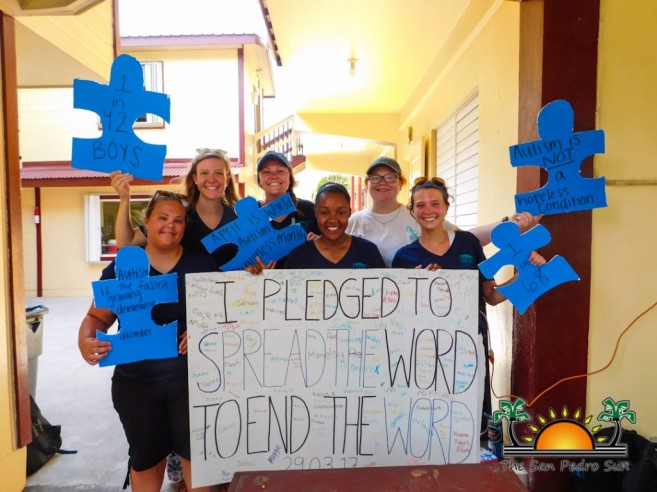 Prior to the assembly, the volunteer group, which is comprised of Special Education and General Education majors, visited IBES on Wednesday, March 29th to activate their "Spread the Word to End the Word" campaign. This initiative was created to halt the use of the word 'retarded'. The dictionary term defines retarded as a "person who is cognitively impaired." However, over the past decade, the word evolved into a derogatory term used as an insult to someone 'stupid', 'dumb', or 'slow'. The campaign brought much awareness to the IBES students, as they were encouraged to be nice and respectful to individuals living with disabilities. The students signed a poster, signifying their pledge to use kind words, and were then given a white ribbon.
On Monday, the volunteer group recapped what the students learned in the previous week, and proceeded with various activities related to Autism. The students raised their hands if they knew what Autism was. From forming lines to symbolize the spectrum, to putting puzzles together, students applied their knowledge to each activity, sharing that Autism affects one in 68 children total, and one in 42 boys. Autism is not a hopeless condition, but it is the fastest growing developmental disorder. The students were then given a blue ribbon to coincide with Autism awareness month.
According to Susan Catapano, it has been a pleasure working in San Pedro Town for so many years. "This is our ninth year visiting Belize. I went on the second trip, and since then, I've been returning back. At the time, Belize didn't have many special needs children in the classrooms, but now, we are privileged to have met these children. The volunteers are doing a great job. They are here learning, and it is a wonderful opportunity for them to experience life in Belize," said Catapano.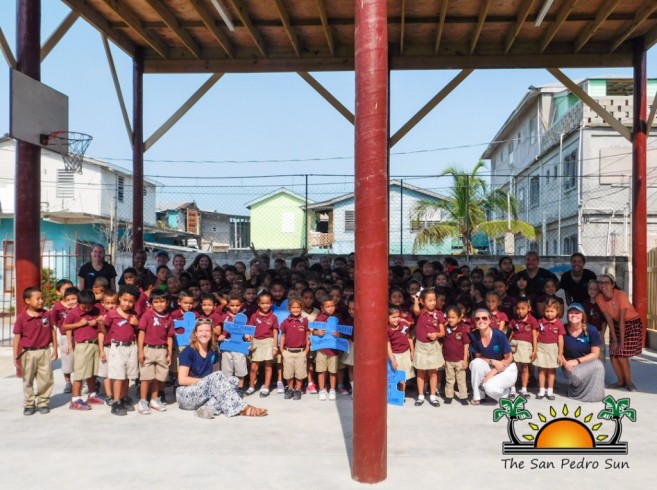 Volunteer Jordan Hall said spreading Autism awareness in Belize came at the perfect time. "Since we're all Special Education majors, we work with kids with different disabilities, especially with autism. All of us are in the same sorority, and in our philanthropy, we raise money for an organization that raises funds for Autism Awareness. So we thought, what better way to spread awareness than being in Belize? This has been the perfect opportunity for us to educate the students on Autism, as well as helping them accept others who may be different," said Hall.
The volunteers for 2017 are: Jordan Hall, Kayla Wynne, Trey Howard, Caitlyn Young, Taylor Bodenheimer, McClean Robinson, Elizabeth Neilson, Maggie Siebert, Shelby Hamlin, Brenda Cardoso, Bailey Bilger, Rebecca Ipock, Erin Smith, and Genevieve Donahue.
As their fifth week comes to an end, the volunteer group is keeping busy working with Ambergris Caye Elementary, San Pedro High School, New Horizon Seventh Day Adventist, and several children who are not enrolled in school. The volunteers are thankful of this experience, and wish to return next year.
Follow The San Pedro Sun News on Twitter, become a fan on Facebook. Stay updated via RSS