Christopher Newport University Volunteers visit island schools
Saturday, April 22nd, 2017
During their first alumni trip in April 2017, volunteers of Christopher Newport University (CNU) in Newport News, Virginia, USA, visited Ambergris Caye on a mission to visit the island's schools. Judy Raiford Pantelides, Adjunct Faculty at CNU, along with Lindsey Pantele, Liz Ciancia and Jessica Gateau, graduates of the Master of Arts in Teaching program at CNU, assisted Holy Cross Anglican School, San Pedro High School and San Pedro Roman Catholic Primary School for several days.

It was the group's first alumni trip, as they have visited San Pedro in the past as students. Pantelides has been visiting the island for 12 years, while the other volunteers have visited in 2010 and in 2012 as part of Pantelide's 'Teaching Across Cultures' graduate class. The volunteers also applied for a teaching license and worked, alongside island teachers for two weeks sharing their ideas.
"Our students always say what a life-changing experience it is for them. We have brought many books for the schools and community children, medical diabetes educators and supplies as well as a variety of doctors and other youth workers. Our local Kiwanis clubs financially supported their lodging, and food. We continue to cherish the relationship we have established with San Pedro and its schools, and look forward to our continued partnership," said Pantelides.
During the trip, the group delivered medical supplies, donated 75 scholastic books, and organized a workshop for the SPHS's English department. Since Pantele and Gateau, who was named Teacher of the Year at Hampton High School in Hampton, Virginia, have previous ties to SPHS, they hosted a two-hour workshop. They offered and introduced various reading comprehension strategies to improve literacy, and classroom management techniques.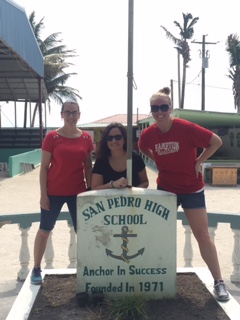 "I had the opportunity to go back to San Pedro High School, where I got to observe when I was there seven years ago. I loved getting to sit in on a few classes and watch the teachers interact with their students and see how they conducted their lessons," said Pantele.
Both Pantele and Gateau are confident that this workshop will make the SPHS teacher's job more efficient and easier. In addition, the volunteers offered ways for the students to hook their students' interests in the material so that lessons would flow more smoothly.
In the end, the volunteers really connected with the teachers, and emphasized the importance of the role of a teacher. "It was such an amazing opportunity to go back and get to work with the teachers at San Pedro High School, and I'm looking forward to keeping in touch with them in the future and helping them out in any way that I can," Pantele.
Joy Elliott, SPHS English department's chairwoman, expressed her gratitude on behalf of SPHS. "We really appreciated the time Pantele and Gateau took to run the workshop. The teachers are already using some of the strategies she shared and loved the response that they got from the students. Thanks once again from the entire English Department at San Pedro High School," said Elliot.
The volunteers enjoyed their stay in San Pedro, and have promised to return in January 2018.
Follow The San Pedro Sun News on Twitter, become a fan on Facebook. Stay updated via RSS