2nd Annual Belize Tattoo Expo a success in San Pedro Town
Wednesday, May 31st, 2017
Over the weekend of May 27th and 28th, more than 100 local, regional and internationally renowned tattoo artists descended on Ambergris Caye for the Second Annual Belize Tattoo Expo. Held at the R.A. Nuñez Auditorium, Belizean tattoo artists, along with artists from Mexico, Costa Rica, Brazil, and even the USA, demonstrated live tattooing, while also displaying their portfolios, paintings, drawings, and other art mediums.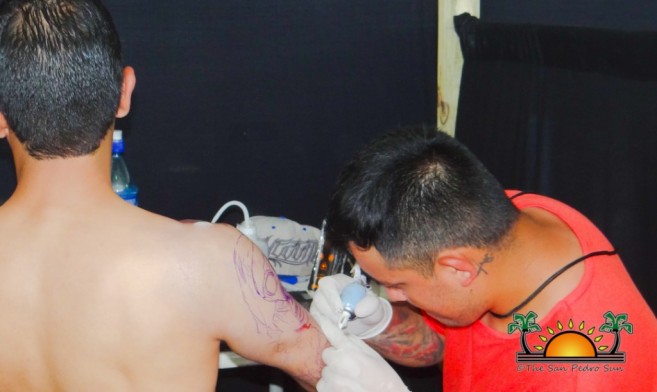 For just $20 a day, the expo attracted hundreds of tattoo lovers, where many individuals came eager to get inked. From brightly colored pieces to black and grey portraits, artists crafted away for hours, tattooing on their willing human canvases. Those who didn't get inked explored the booths, enjoyed delicious food, and picked up memorabilia on sale.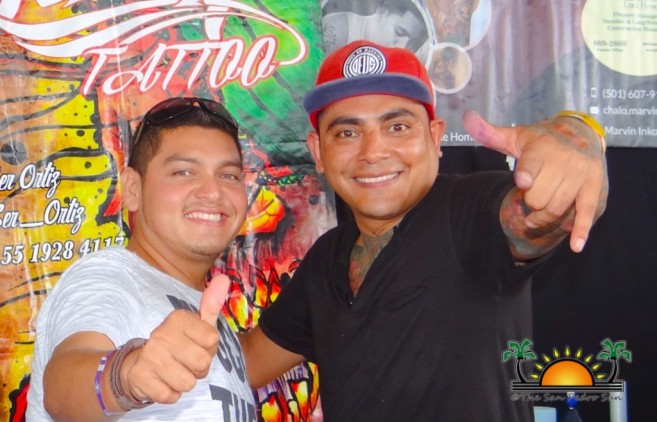 Aside from the ink, organizers Wimpas Sosa (Belizean Ink) and Carlos Serrano also provided the attendants with much entertainment, including live music from rapper Spanky Loco, the Caribbean Kings, deejays, fire and freak shows. Fully tattooed Belizean Carlos Lopez mastered some of the most daring acts. With four hooks pierced onto his back, and two on his legs, Lopez swung in the air like Superman—fueled by sheer adrenaline. The audience was doubly impressed when he suspended another person from hooks on his chest. Carlos said it was his first attempt and it was certainly a gory success!
Once the freak show was over, artists had the opportunity to finish their last pieces before the judging began. Coveted prizes included quality tattoo inks, fashionable tattoo machines and trophies. Artists focused on pieces that would take the title of: Best in Color, Most Creative, Best Black and Grey, Best Realism, and Best in Show.

Expo winners include: Angel Azul (Mexico)-first place in Color, and Tito Zambrano (USA)-second place. Best in Realism was awarded to the artist who precisely depicts the artwork of the customer, and Adolfo Rubio snatched the first place prize; while Jeraldo came in second place. In the Black and Grey category, William Robin Ferramosca (Brazil) took first place, and Robin Carpio placed second. Angel Azul also took first place in the Most Creative category, while Robin Carpio came in second. However, the grand prize of the night, Best in Show, went to Ferramosca. His customer's tattoo showcased the word "Live", with a broken clock and a woman's eye shedding a tear.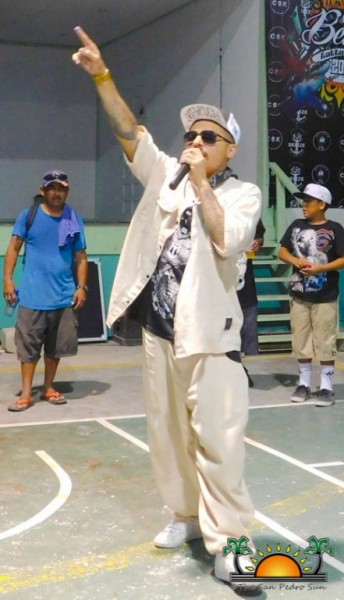 Organizers declared the expo a huge success, and Sosa promises that next year's expo will be bigger and better, jam-packed with more artists, more traders, and even more entertainment.
Congratulations to all the winners, and major respect and kudos to the organizers, volunteers and all those who attended what was one spectacular show. See you next year!
Follow The San Pedro Sun News on Twitter, become a fan on Facebook. Stay updated via RSS