Trees cut by BEL is cause for concern
Saturday, September 22nd, 2012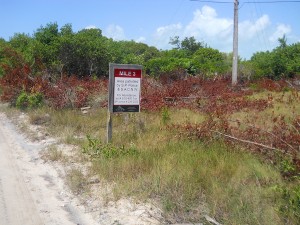 A few weeks ago Belize Electricity Limited (BEL) engaged in the cutting of all trees along their power lines from near the WASA Lagoon to the southern end of the island. The trees that were cut down for miles, were left to dry along the edge of the road under the power lines. Not only are residents complaining about the sight of uncollected debris but it has become a fire hazard to the businesses and people that has properties along the power lines.
Speaking to The San Pedro Sun, one resident complained that BEL sent their workmen to cut the trees without any knowledge of how to trim trees. Residents say that they were not notified by BEL and in some instances the incorrect pruning has not only killed some of the trees but they are now drying up along with branches left under the power line forming a long chain of brown, dry debris. To make matters worse, the "awful sight" of dead branches and dying trees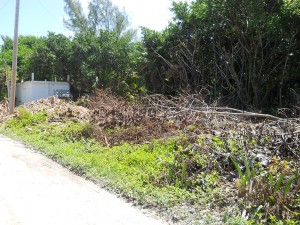 leaves a "bad taste for our tourists," claims an angry resident. Amongst the trees killed by the crewmen of BEL are those that are used for landscaping at resorts and private residents, healthy producing coconut trees, other blooming fruit trees and mangroves.

The SPSun has left numerous messages for the Senior Public Relation Officer at BEL Vonnetta Burrell to respond to the concern highlighted by the island residents regarding the cutting of trees along power lines. We attempted to find out if it is a common practice by the electrical company to cut trees along power line without notifying property owners and to find out who is responsible to remove the trees once they are cut by BEL. Given the fact that on mainland Belize BEL compensates affected owners, we also wanted to find out if those affected property owners on the island would similarly be compensated as well. Despite multiple requests and messages left for Burrell, all were unanswered.
Follow The San Pedro Sun News on Twitter, become a fan on Facebook. Stay updated via RSS