Two Norwegian University students conduct research on oil issues in Belize
Friday, March 1st, 2013
Two research students from the Norwegian University of Life Science in Oslo Norway are in Belize gathering information for a project called "Contested Powers" that focuses on conflicts relating to oil and energy in Latin American countries. It's a large research project undertaken by several learning institutions in various parts of Europe and Latin America. The two students in Belize are Espen Nolan Knutsen and Carl Knutsen, and they are part of a large amount of researchers scattered around the region on the same mission.
According to the students the information gathered will be used for their thesis and later this year, will become a book. "The research [we are conducting] will be part of a larger research group that is looking at oil and energy related conflicts in Latin American called 'Contested Powers,'" explained the two young researchers to The San Pedro Sun following an interview with the newspaper's editor – Tamara Sniffin.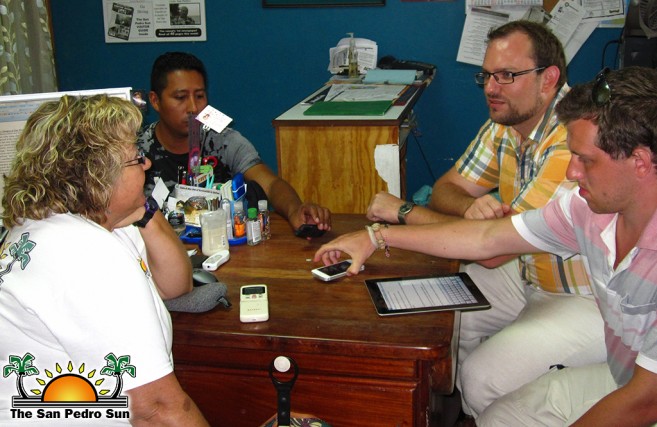 According to Espen Knutsen, their research has taken them to various parts of Belize. "We are researching oil exploration and production in Belize and we are looking into conflicts and issues that have arisen because of oil concession giving. We are also looking at exploration issues; for example, we have seen the conflict as it relates to oil in the Maya community. We are also looking at production in the Mennonite community in Spanish Lookout. We are also looking at the issue from a tourism perspective where people here [San Pedro Town] are not into drilling and exploration efforts offshore because of the consequences it can have on the reef. So we are looking at all the oil related conflicts in Belize."
Carl Knutsen said that they have also spoken to a number of people. "We have gotten a lot of support from the various communities. A lot of the interviews have been done with academics at the University of Belize which are particularly helpful. We have gotten quite a few interviews with NGOs (Non Governmental Organization) which have been opposing offshore drilling. However we have had trouble getting to government officials. They haven't been forthcoming in talking to us; they have been avoiding us. " The Norwegian students indicated that government officials have promised to get in contact with them but have not done so, which is one of the barriers encountered in Belize.
"We have been to the Belize National Archives and done some research. We have actually found out that oil exploration goes back further than much people know in Belize. It is interlinked with many other social issues in Belize. It's not just the oil and whether we drill or not; it's a big political issue that digs deep into the society both historically and politically," explained both researchers.
According to Espen and Carl, the research will also be useful for other work in Belize once publicized. "We believe that our research will be really important for Belize. We have heard from a lot of people that there is not a lot of research going on in Belize – historically they haven't that much, and so what we are doing will do some good for Belize in order to create some deeper awareness amongst Belizeans. Not only to create awareness about oil issues but to show other aspects of social, environmental and political effects on the entire oil issue."
Besides interviewing two of the staff at The San Pedro Sun, the two researchers met with other NGOs and tour guides on the island to get their insights about the oil issue in Belize. Following their two-week stay on Ambergris Caye, they will eventually move to the Toledo District where they will continue their research interviewing indigenous and environmental groups. Anyone wishing to assist with any information that can help the two researchers may email them at [email protected]
Follow The San Pedro Sun News on Twitter, become a fan on Facebook. Stay updated via RSS