Government Silences People's Voice on Referendum
Friday, December 21st, 2012
In a move to ensure that the issue of whether or not 8,047 signatures were improperly disallowed by the Chief Elections Officer of the Elections and Boundaries Department, the Government of Belize (GOB) sought to strike out the case (Claim No. 225 for 2012) brought earlier this year by Audrey Marie Bradley, Thomas Greenwood and Oceana in Belize. Permission for the case to proceed was granted June 5, 2012 by Supreme Court Justice Michelle Arana.
GOB applied to strike out the case based on whether the 14 days to file the full application for judicial review started on the date the oral permission was granted or when the written order was perfected by the court.
Justice Arana, in striking out the referendum judicial reviews case, said she agreed with GOB Attorney Denys Barrow that the 14 days started to run June 20th.
This ruling brings to an end any legal attempt to hold the Government accountable for denying the Belizean people a choice to voice on whether or not there should be offshore oil drilling in Belizean waters.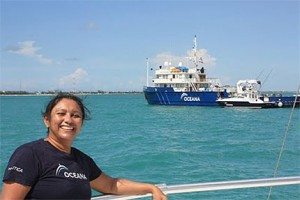 "Government can never confidently say a majority of Belizeans want drilling for oil in our waters, and at all cost must find a way to silence the voice of the people on this issue," said Oceana Vice-President Audrey Matura-Shepherd. "Government can use all and every form of technicality to silence the wished of the people, but this issue will not go away. We will continue to work to allow the people of this country to have a say on offshore oil," Matura Shepherd explained.
It must be noted that just before the Marh 2012 general elections Prime Minister Barrow said he would be prepared to get Cabinet's approval to have a referendum on offshore oil. Oceana therefore calls on the Prime Minister to fulfill this election promise and simultaneously hold the offshore oil referendum with the mandatory Belize Guatemala Referendum in 2013.
Follow The San Pedro Sun News on Twitter, become a fan on Facebook. Stay updated via RSS