Twin-Towns Partner with Forest Department to Begin Urban Green-Space Initiative
Monday, June 4th, 2018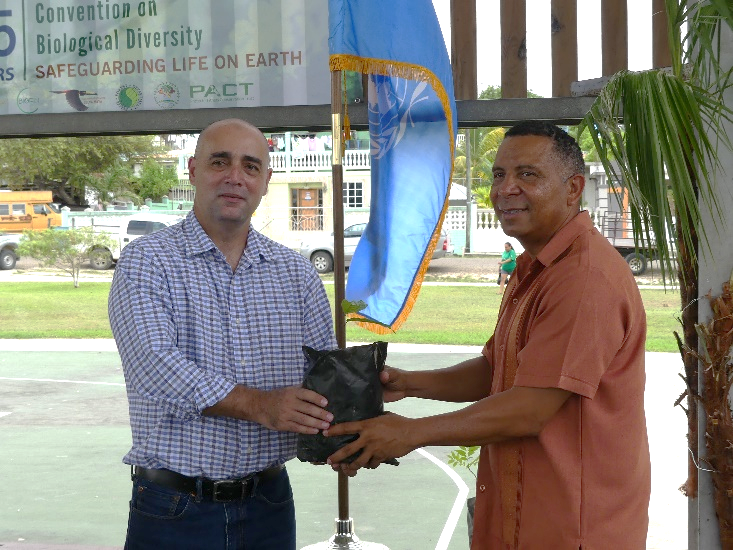 In celebrating 25 years of biodiversity, the Forest Department continued its sustainable cities initiative by donating and pledging 1,000 trees to the San Ignacio Town Council.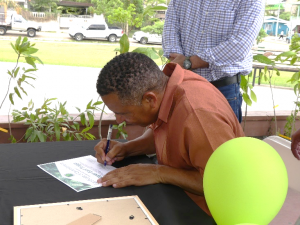 During the Biodiversity Celebrations ceremony on May 31st, 2018 in the twin-towns of San Ignacio and Santa Elena, the Mayor, His Lordship Earl Trapp, signed the partnership agreement with the Forest Department to build greener spaces within the municipality by 2020.
In his address, Mayor Trapp stressed the importance of building more sustainable municipalities and pinpointed this and several on-going sustainable cities initiatives that have taken shape over the last three years. He indicated that these smart, eco-friendly initiatives, such as the restoration of riverine areas, the establishment of ecological parks, home-gardening food projects, and the better management of solid waste were led primarily through partnerships with local schools, businesses, civil society entities, and individuals. The partnership forged with the Forest Department enables the two to deliver on its commitment to developing greener spaces within the twin-towns.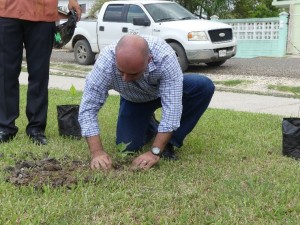 Hon. Omar Figueroa, the Minister of State in the Ministry of Fisheries, Forestry, the Environment, Sustainable Development and Climate Change, was the first to plant the trees in the Falcon Field Area. Minister Figueroa applaud the Town Council's efforts to build greener communities. Chief Executive Officer, Percival Cho, and Diane Wade Moore, UNDP Programme Analyst, were among those who were also part of the day's celebrations. They hailed such activities as symbolic gestures of how Belizeans can easily take climate action.
The urban green-space initiative is part of the Forest Department's Forest for Life campaign being promoted under the Key Biodiversity Areas project, aimed at promoting forest stewardship and building climate resilient communities.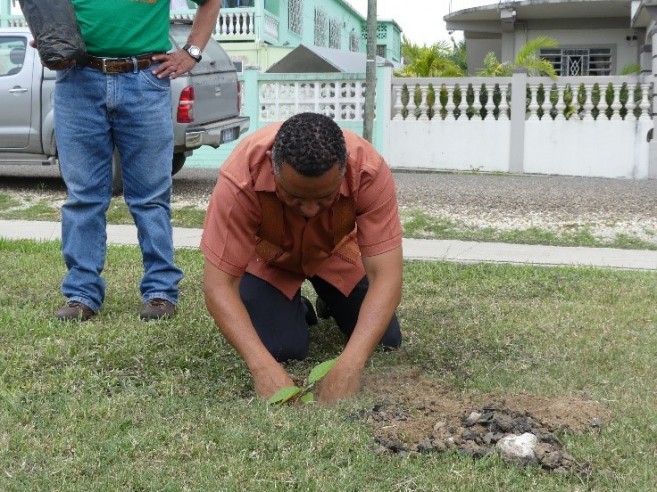 Since its launch, the tree planting program has resulted in a partnership with the Belmopan City Council, the Orange Walk Town Council, and now the San Ignacio Town Council. As an urban green space initiative, it encourages not only beautification but is part of a sustainable cities program to provide shade, filter air and water, provide cooler temperatures, reduce noise pollution, minimize flooding, reduce damages caused by natural disasters, and promote health and well-being.
Follow The San Pedro Sun News on Twitter, become a fan on Facebook. Stay updated via RSS