A preview of upcoming marine conservation documentary dubbed UNBELIZEABLUE
Thursday, December 15th, 2022
A group of environmentalists and filmmakers are currently working on a documentary on marine conservation called 'UNBELIZEABLUE,' which follows a multigenerational group of inspiring women leaders in Belize. The film highlights their efforts to protect Belize's barrier reef, the second longest in the world, and other marine resources. To further the discussion on the topic, a virtual event featuring Program Director for The Nature Conservancy (TNC) in Belize, Julie Robinson, and the documentary's filmmakers Eladio Arvelo, and Phil Karp, was held on Tuesday, December 13th, where they shared the goals and motivation behind the conservation film.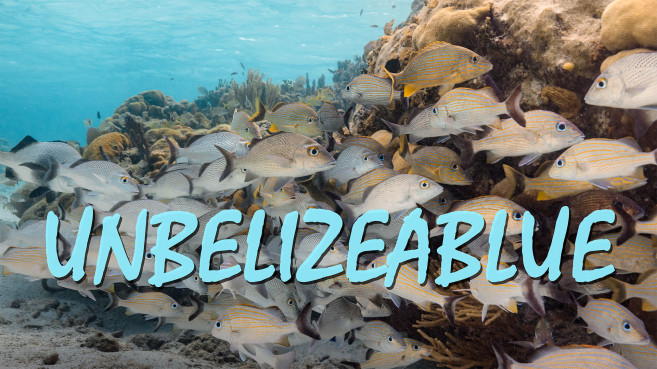 Filmmaker Arvelo started the conversation by asking TNC's Robinson about their efforts in Belize. Robinson shared that Belize's geographical location between Central America and the Caribbean calls for a vast diversified ecosystem and the need for conservation. In TNC's 31 years in Belize, Robinson shared that the organization has made positive impacts with the collaboration of the Belizean community governmental and non-governmental groups. "We have provided tools, and skills, for conservation programs on land and water," she said. Robinson touched on their efforts to tackle the effects of climate change and the current conservation programs involving the blue bonds.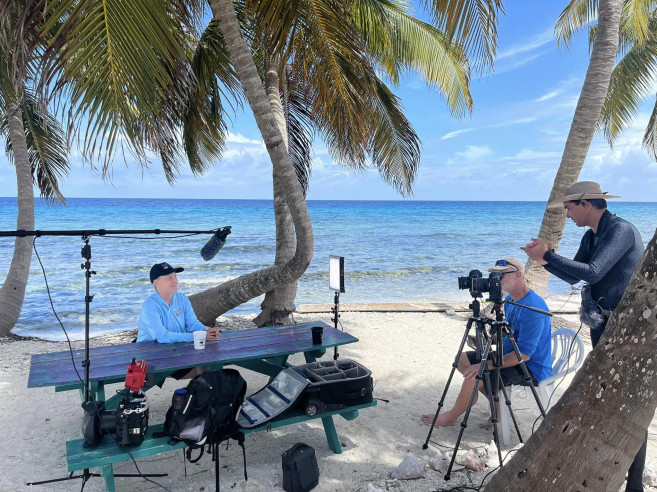 According to Robinson, this mechanism led to Belize's external debt restructuring and the reduction of 25% of the country's debt-GDP ratio. "It's allowing the government to channel funds to conservation to the tune of US$4.2 million per year for 20 years," said Robinson. She said it is a significant step for cash flow to develop the next generation of conservationists, create jobs and protect the environment. Robinson also discussed a stakeholder-driven marine plan in which they participate in decision-making sessions. She said that such teamwork between the government and stakeholders makes this blue bond experience different from other similar initiatives.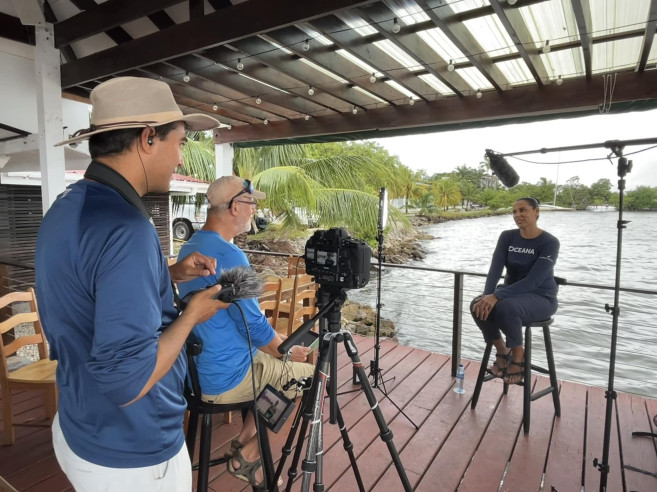 Karp shared his experience in conservation programs in Belize over the years. One of his experiences was looking to create markets for products made from parts of the lionfish. Karp said he was amazed to find out that the key players in such a project were all women. He highlighted different female entrepreneurs and leaders engaging in sustainable practices while at the same time benefiting from what the Belizean marine space has to offer. Karp mentioned San Pedro's Chef Jennie Staines' efforts towards a sustainable way of fishing stone crabs, in which only its primary claw is removed and then set free. This conservation practice is considered exemplary and a significant contribution from female leaders and visionaries.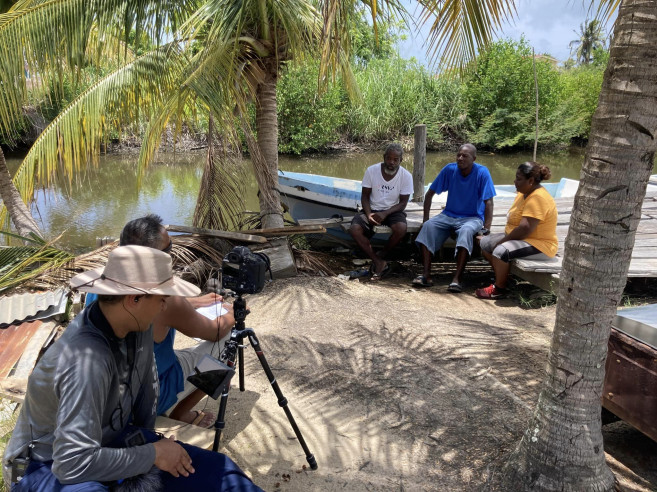 When the documentary is complete, it will highlight all these Belizean women committed to conserving the country's marine resources. The UNBELIZEABLEBLUE filmmakers have been in Belize on three occasions to work on the said documentary. Throughout their work across the country, Arvelo noted that Belizeans had taken bold measures to protect the marine ecosystems lining the country's Caribbean coast. While many challenges threaten conservation's success, Belizean leaders' most significant task is to show the world how a country can thrive and co-exist with its natural environment.
To know more about the documentary, here is a sneak peek https://watch.showandtell.film/watch/tnc-unbelizeablue of what UNBELIZEABLEBLUE is all about. Meet the team and participants and find out how you can be part of this adventure by visiting their webpage https://www.unbelizeablue.org/.
Follow The San Pedro Sun News on Twitter, become a fan on Facebook. Stay updated via RSS