BYM holds 'Call on Angels' Charity Fashion Show
Wednesday, December 21st, 2016
The Belize Youth Movement (BYM) organized their first ever, "Call on Angels" charity fashion show on Saturday, December 17th. Following the boat parade, the fashion show lured in more than a hundred individuals to the Angel Nuñez Auditorium at 8:30PM.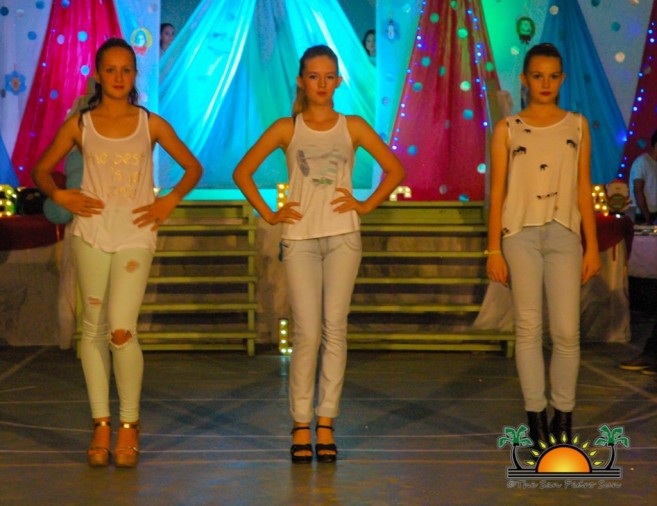 Hostesses for the night were Miss Chiquitita 2016-2017, Lindsey Williams, and Miss San Pedro 2016-2017, Marisha Thompson. They welcomed the audience, thanking them for their presence. The purpose of the charity fashion show was to benefit children who may not afford school by assisting them for a brighter future.

The entire show featured the talent of local models, ranging from toddlers to adults. The first set of models displayed unisex causal clothing from both Love Belize and Island Bargain Center. They were followed by models showcasing preteen fashions. In the 'jeans and white tank' category, the models strutted their way to the center stage where they presented a dance.

Certainly, the most adorable segment of the night was when the toddlers and children came out dressed in their fancy best! Glitter, lace, florals and more, the cuties were stylin'! The San Pedro Dance Academy, in collaboration with the Yaka's Elite Dancers, followed right after, adding to the night's entertainment. That was followed by another segment featuring dresses, then the latest fashion trends in male clothing went down the runway.

In between segments, local singers/performers Samantha Munoz and Esther's Songs showcased their talent. Foreva Fancy sent down their 'Little Black Dresses' collection, featuring items that never go out of style. Ending the night was the "2016 Island Evening Wear" featuring formal evening gowns perfect for that special occasion.

Organizer and founder of BYM, Francisco Mendez, thanked the crowd for their support, encouraging them to prepare for next year's show. "There is something really special about the youth, especially the youth on our island. The BYM is thriving to help them live up to their dreams," said Mendez. I thank my mother, our models, fellow Lion members, and Vivian Noralez for their help. We know 2017 will be a great year, and we plan on having a bigger show next time."
BYM extends heartfelt gratitude to the following generous sponsors: Pink Boutique, Foreva Fancy Boutique, Island Bargain Center, Love Belize, Divas and Dude's Kids Boutique, Leslie's Salon, Jaguar's Nightclub, Style Land, Gabby's Construction, Di Bush Toucan, Milos Center, The Candle Garden, Banana Beach Resort, Daddy Rocks, Island Torch, Wings, Senior Marlins, Manelly's Ice Cream, Hidden Treasure Restaurant, Finn and Martini, Caramba's, Nellie's Baby Nest, Amigos del Mar, Bowen & Bowen, Travellers Liquors, and Rapidito Loans. See you next year!
Follow The San Pedro Sun News on Twitter, become a fan on Facebook. Stay updated via RSS