Prime Minister of Belize and Mexican President meet during IV CARICOM Mexico Summit
Thursday, November 2nd, 2017
On Wednesday, October 25th, Mexico President Enrique Peña Nieto arrived in Belize, for the first time to participate in IV CARICOM Mexico Summit. Peña Nieto's participation aims to consolidate the progress of the IV CARICOM – Mexico Summit and endorse Mexico's recognition of the importance of cooperation with the Caribbean in matters of security, migration, climate change mitigation and prevention of natural disasters.
Belize Prime Minister Rightful Honorable Dean Barrow opened his address saying, "I wish, first, to welcome all of you to Belize. Whether you are a first-time visitor to our shores or have been here before, you will know either by reputation or experience that our tremendous physical attractions and the warm hospitality of our people are very much yours to enjoy." He further referred to the Peña Nieto "I also welcome you to the 4th CARICOM-Mexico Summit, the reason for you being here at this time. Belize is honored to host this coming together from Mexico, perhaps the greatest friend to which our country is bound by blood and history, and CARICOM, undoubtedly Belize's first family. It is wonderful to be able to use our special geographical location to facilitate such an important meeting of two sub-regions."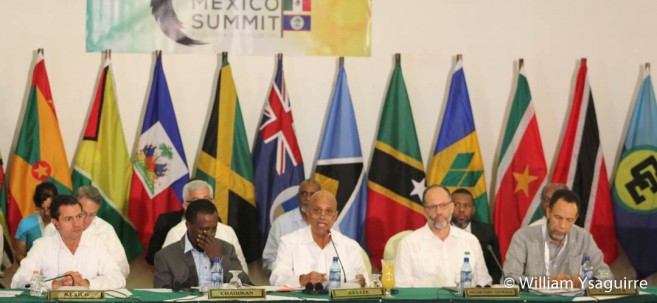 Prime Minister continued his address as he spoke of the recent natural disasters the Caribbean and Mexico have recently been experiencing. "Of course, all the world knows that recent weeks have visited horrific natural disasters in both Mexico and CARICOM", He said. Barrow stated that despite the natural the disasters the different countries confronted, they manage to work along as one nation and are slowly recovering, some with the help of international partners.
He referenced the close relationship between Belize and Mexico, emphasizing the challenges they confront because of their closeness. "That very closeness gives rise to many challenges. Every day we face area-specific threats to our security and our peaceful way of life from organized and trans-border crime. And every day we face obstacles from epidemics, economic shocks, climate change and the resultant natural and man-made disasters we have just been painful witnesses to and victims of. And because all these problems are in fact region-wide and indeed global, CARICOM suffers the same effects as Belize and Mexico, though not being part of the same immediate geographic interconnectedness ", said Barrow.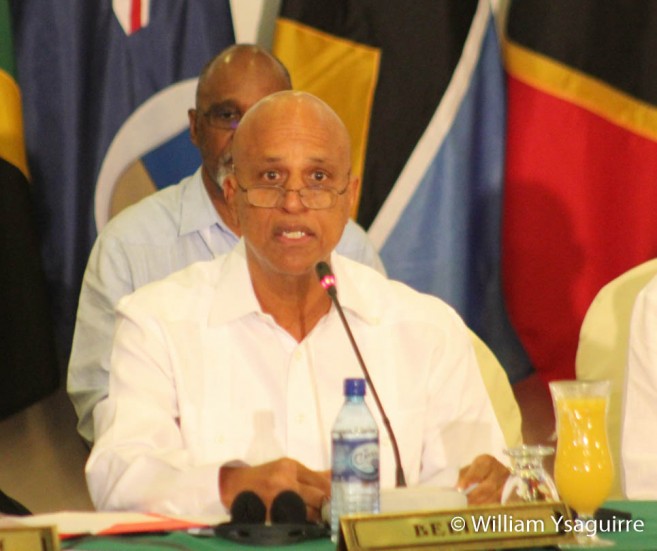 Prime Minister Barrow ended by saying, "Therefore, we have an opportunity to build upon the work of the three previous summits and on our mutual interest in the multiple areas of identical concern. We have an opportunity to build metaphorical, if not literal, bridges across the expanse of the Caribbean Sea. Disaster Management, Health, Education, Security, Energy, Technology, Trade, and Investment: these are the hardscrabble issues, the plinth and building blocks that we tackle to drive progress and unshackle our societies within and across our borders. I close in the certain knowledge that we will have a productive day because of the sense of urgency, the seriousness of purpose, and dedication of our respective delegations."
Also attending the IV CARICOM – Mexico Summit was, Grenada Prime Minister Keith Mitchell who is also the chairman of the CARICOM, President of Guyana David Granger, Barbados Prime Minister Frenduel Stuart, St. Lucia Prime Minister Allen Chastanet and Trinidad and Tobago Prime Minister Keith Rowley.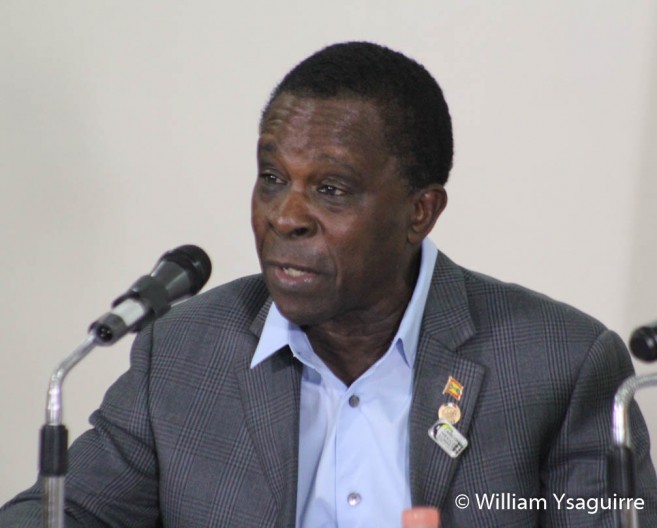 In his joint declaration with Prime Minister Mitchell at the conclusion of the Summit, he said the Heads' of State discussions had focused on establishing a mechanism to promote the region's economic development and welfare, given Mexico's geographical proximity with CARICOM, and the brotherhood which has existed between the 2 communities since a year after the Treaty of Chaguaramas was signed.
He thanked Prime Minister Barrow for Belize's hospitality and for their very productive bilateral meeting. He thanked the CARICOM community for the many expressions of solidarity with Mexico for their losses during the earthquakes of September, even as he extended his condolences for the regions' losses of human life and in damage to property from the sequence of hurricanes which pummeled the region this year.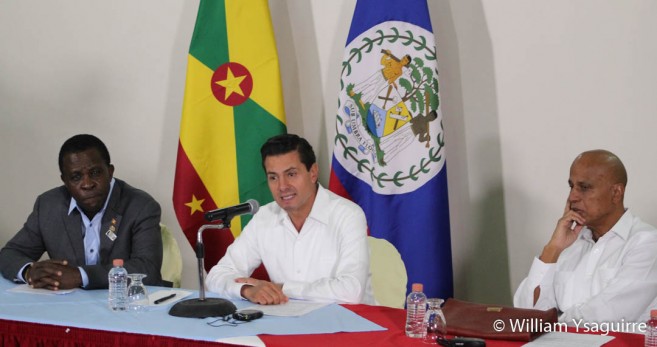 In Mexico's cooperation with CARICOM in education, Peña Nieto agreed to help promote the teaching of Spanish within CARICOM, by providing 150 scholarships for CARICOM teachers to learn the teaching of Spanish as a Second Language at Mexican universities. He commiserated with Dominica, worst hit by the recent hurricanes, confirming Mexico's support to help in CARICOM recover, especially those islands most affected by these natural disasters.
Prime Minister Mitchell thanked President Peña Nieto for Mexico's support, also outlining that the Heads; discussions had focused on disaster management and recovery, since both CARICOM and Mexico had been hit by several recent hurricanes, and Mexico by earthquakes in September. Both communities agreed to work in partnership to ensure that clear and concrete assistance is secured for those CARICOM territories most affected by Hurricanes Irma and Maria, from international donor agencies friendly with Mexico, at an upcoming conference convened by CARICOM and the United Nations at the UN in New York on November 21.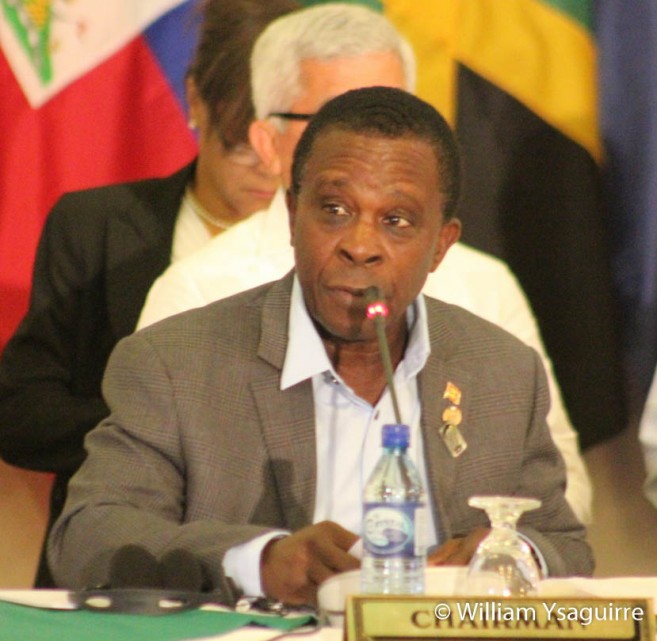 The many impacts of Climate Change was at the top of discussions, as the CARICOM heads of governments examined how best to increase their resilience to Global warming. It was agreed that the region needed to strengthen it scooperation with more developed partners and international agencies, to foster support for better adaptation and mitigation measures, and sustainable energy technology to be implemented in their territories, along with early warning systems, to reduce their vulnerability to Climate Change.
Other areas of cooperation agreed upon was for joint action at multinational meetings to mobilize support to further strengthen the Caribbean's institutional capabilities for disaster risk management, cooperation on economic issues as ways to fight the removal of corresponding banking agreements, and to prevent small island states from being graduated to high-income status. The two communities also agreed to cooperation on de-risking as part of the 7th Mexico-CARICOM Technical cooperation programme for 2017-2019, along with cooperation in health, statistics and Information and Communications Technology (ICT), in line with the priorities of the CARICOM Strategic Plan 2015-2019, and the global development agenda.
In the area of economic development, it was agreed that ProMexico and Caribbean investment agencies would continue to lead strategic activities to reinforce investment and trade between Mexico and the Caribbean, as agreed upon in a memorandum of understanding signed in 2015. The Summit Heads also agreed for CARICOM to host next year's Foro de Cancun, the top business forum for Latin America and the greater Caribbean, as an initiative for cooperation in trade and investment, which will contribute to joint economic development.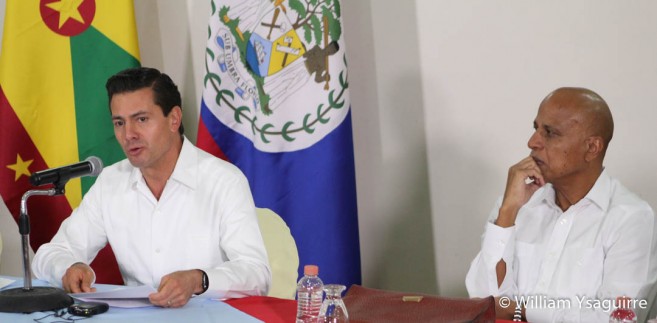 Due to the geographic proximity between Belize and Mexico, President Peña Nieto had a private bilateral meeting with Prime Minister Dean Barrow before the summit. PM Barrow bestowed him with the order of Belize after discussing a number of programs between the two neighbors, including foreign policy, national security, and development cooperation.
Furthermore, a new Escuela Mexico to promote technical education in southern Belize, two new Coast Guard cutters, and enhanced cooperation in areas of education, health, agriculture and food security, trade and infrastructure, were among the cornucopia of blessings which Mexican President Enrique Peña Nieto showered on Belize during his first official visit to the Jewel last Belize on Wednesday, October 25.
President Peña Nieto met first with Prime Minister Hon. Dean Barrow at the Radisson Fort George Hotel in the morning, where he confirmed what was hinted at by AMEXID Executive Director Augustin Garcia Lopez-Loaeza at the inauguration of the new lights for Marion Jones Sport Complex in August: that Mexico would build a second Escuela Secundaria Tecnica Mexico for southern Belize. Peña Nieto also promised to establish a three-year programme to support 25 partial scholarships for low-income Belizean students for studies at the school.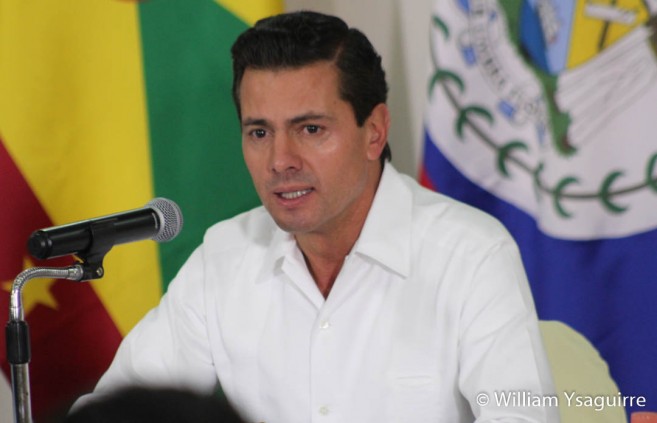 Barrow and Peña Nieto also agreed that Mexico would help Belize build 2 large 30-meter long patrol boats, for the Belize National Coast Guard to patrol Belize's maritime areas as part of continued cooperation in maritime security. The Mexican Naval Academy will also continue its long-term, ongoing capacity building programme with the Belize Coast Guard.
The negotiations for a Partial Scope Trade Agreement between Belize and Mexico will also be fast-tracked for early next year to strengthen trade and investment, the Mexican President agreed, as soon as the North American Free Trade Agreement (NAFTA) is renegotiated. Belize will also soon sign agreements with Mexico to consolidate cooperation in air and land transport, education, and to further strengthen the legal framework between the our two nations on trans-boundary hydrocarbons/
The bi-lateral meeting closed with Prime Minister Barrow conferring the Order of Belize on President Peña Nieto.
Follow The San Pedro Sun News on Twitter, become a fan on Facebook. Stay updated via RSS