PM John Briceño makes historic visit to Guatemala
Friday, June 4th, 2021
Belize's Prime Minister (PM), the Honourable John Briceño, is back in the country after an official visit to Guatemala.  President Alejandro Giammattei described the visit as historic. The two leaders shared remarks during the meeting on Wednesday, May 2nd, in Guatemala City, where they spoke about common interests such as education, trade, investment, security, and immigration. Both governments also committed to a more substantial and friendly bilateral relationship.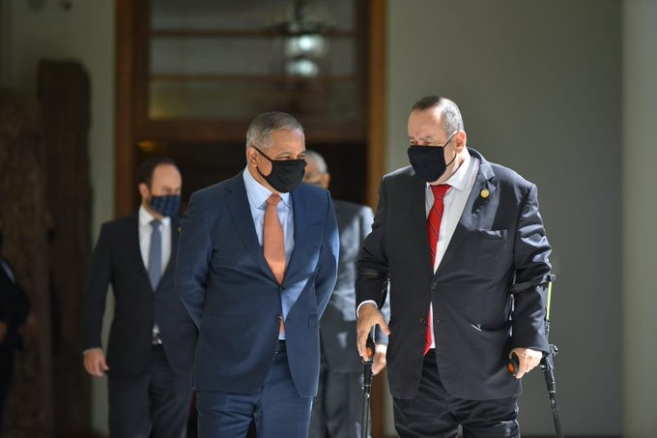 Giammattei said that since taking office in January 2020, he asked his Minister of Foreign Affairs to start arranging a meeting with Belize's Prime Minister. In his remarks, Giammattei spoke of the need to find solutions to the shared challenges affecting both countries. "We need to improve the commercial capacities, promote investment so that we can secure investments in Guatemala and Belize. Also, the possibility to exchange fundamental information in distinct areas, not only in commercial business but in security as well," said Giammattei. He expressed to Briceño that his administration will be the one that gets along better with Belize to build an economic recovery and work together for the benefit of Belizeans and Guatemalans.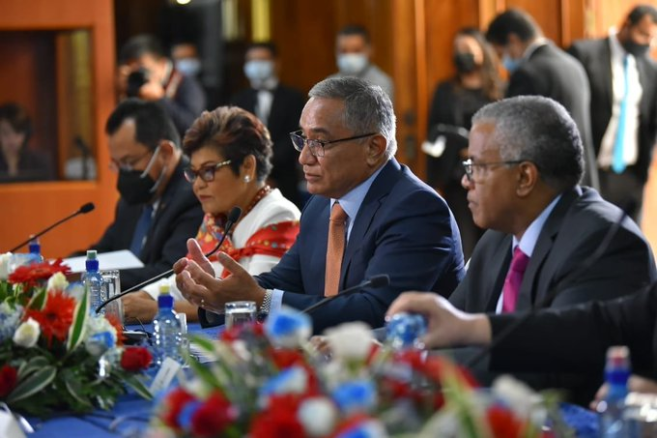 PM Briceño thanked Giammattei for the invitation and warm welcome. In his official remarks, which he delivered in Spanish, the Prime Minister outlined topics such as commerce, tourism, education, and cooperation. "I think there are many opportunities between our two countries, Belize and Guatemala. Many Guatemalan citizens have made Belize their new home. Guatemalan students, for example, cross into Belize every day to study in our schools. Belizean students also come to Guatemala at the university level," said Briceño. He added that they look forward to cooperating in trade, tourism, culture, and medicine. The Prime Minister assured his counterpart that his government would do everything possible to honor the commitment they discussed at a private meeting.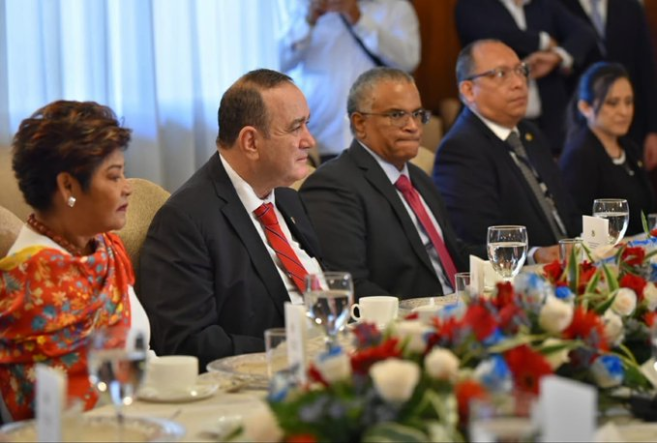 At the end of the brief event, Briceño extended an invitation to President Giammattei and his team to visit Belize.
There was no mention of discussing the ongoing territorial dispute between the two countries. Guatemala continues to claim parts of, if not all Belizean territories as theirs. After exhausting the diplomatic efforts, both countries decided to take the matter to the International Court of Justice (ICJ) located in The Hague, Netherlands, in Europe. Following the positive results of referendums in Guatemala and Belize, it was decided that the ICJ would settle the territorial dispute.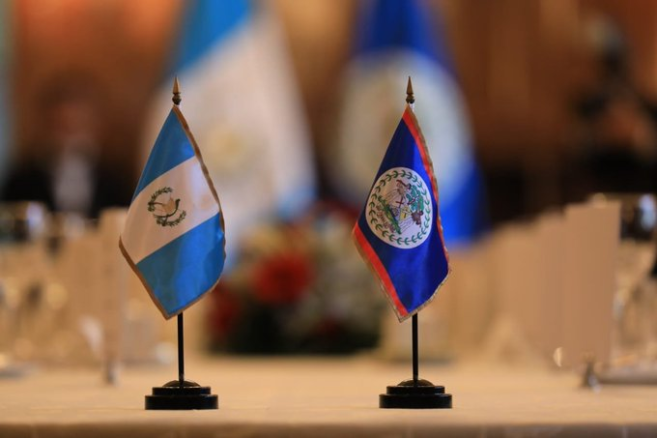 The Belize delegation comprised of the Honourable Eamon Courtenay, Minister of Foreign Affairs, Foreign Trade and Immigration, Mrs. Narda Garcia, chief executive officer in the Office of the Prime Minister, Ambassador Amalia Mai, chief executive officer in the Ministry of Foreign Affairs and Foreign Trade and His Excellency Jose Alpuche, Ambassador of Belize to the Republic of Guatemala.
Follow The San Pedro Sun News on Twitter, become a fan on Facebook. Stay updated via RSS