San Pedro Chapter of the Belize Red Cross elects new Executive Committee
Friday, March 15th, 2013
Eiden Salazar Jr. is chairman of the new board
The local chapter of the Belize Red Cross (BRC) held elections for their Board of Directors on March 14, 2013. The elections were held during a breakfast meeting held at Estel's commencing at 10:45 am. Present at the meeting was director general of the Belize Red Cross, Lily Bowman.
Elected to the board are: Chairperson – Eiden Salazar; Vice-Chairperson – Antony Anderson; Treasurer – Carolyn Kumar; Ordinary member – Cheryl Bowen; Ordinary member – Sandro Cob; Ordinary member – Frank Panton; Youth representative – Swuine Diego and Secretary – Philip Ramsey.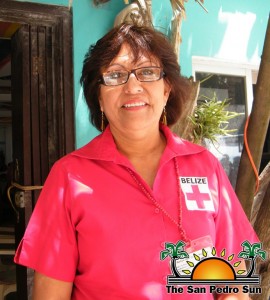 The committee is still in need of an office coordinator; who will initially be offered a $250 monthly stipend to open the office three times per week and coordinate BRC activities. With the establishment of the San Pedro branch, this marks seven branches around the country of Belize. Bowman spoke about the meeting and what was accomplished. "This all comes in our attempt and efforts to reactivate our Belize Red Cross branch of San Pedro. Many, many years ago we had a very active branch out here and for whatever reason it went dormant. With this meeting, the group held the election of their Executive Committee and we are now able to declare the branch official."
Elections in the branches are held every two years. As part of the meeting, Bowen took the time out to go over the constitution, as well as the various roles and responsibilities of the individual officers. Bowen went on the state that she is confident that the San Pedro Branch will be one of the more active branches and sees much potential out here. She congratulated the newly elected committee and turned over the meeting to newly elected Chairman, Eiden Salazar. With the help of other committee members, Salazar hopes to continue the much needed work of the Red Cross to serve the people that are most vulnerable and to alleviate suffering wherever it is found.
Under the Medical Safety program, the BRC is holding their next Certified first aid training on Tuesday March 19th and Wednesday March 20, 2012 at the Fido's Courtyard. The course is scheduled to start at 9:00am and will finish by 4:30pm on both days. The cost for the training is $50BZ per participant, with all funds raised going to the Red Cross. Lunch is extra and special pricing will be in effect. Advance payment is required. Resorts and business are encouraged to sign up their staff for this much-needed, very important certification. A prepared and trained staff can "Save a Life". The group invites any individual that is interested to become a member to do so by contacting either Mr. Eiden Salazar or Laurie Norton at [email protected].
Follow The San Pedro Sun News on Twitter, become a fan on Facebook. Stay updated via RSS