The Belize Red Cross initiates activities to celebrate 30 years of service to Belize
Tuesday, August 20th, 2013
Press Release- The Belize Red Cross-August 19th-
Its celebrations will span from August 2013 to August of 2014 incorporating next year as the 30th year of having been accepted in the International Federation of Red Cross Red Crescent in Geneva.
The Belize Red Cross Society was legally recognized in Belize as a voluntary aid organization, auxiliary to the Government in all humanitarian fields, on August 18th 1983. However history documents activities in Belize began when the known British Honduras Branch of the British Red Cross began work in 1914 as part of World War one support from western hemispheric countries and territories. In April 1950 the Belize Red Cross Movement was under the leadership of the President of 20 years, Belizean Sir Wilson McMillan.
Today the Belize Red Cross is housed in its headquarters at #1 Gabourel Lane, Belize City and has branches in each district town, Belmopan and San Pedro.
Over the years the Belize Red Cross has been at the forefront of responding to numerous events that have affected many communities throughout Belize. The staff and volunteers of the Belize Red Cross have responded to hurricanes, floods, fires, diseases, HIV awareness programs, relief and rehabilitation of victims, as well as special activities focusing on the needy, the elderly and children.
Its Pearl Anniversary Celebrations will focus on making its work and its volunteers visible at most events during the rest of 2013. One such event shall be the September Celebrations and the Belize Red Cross shall host a booth at the Annual Expo 2013.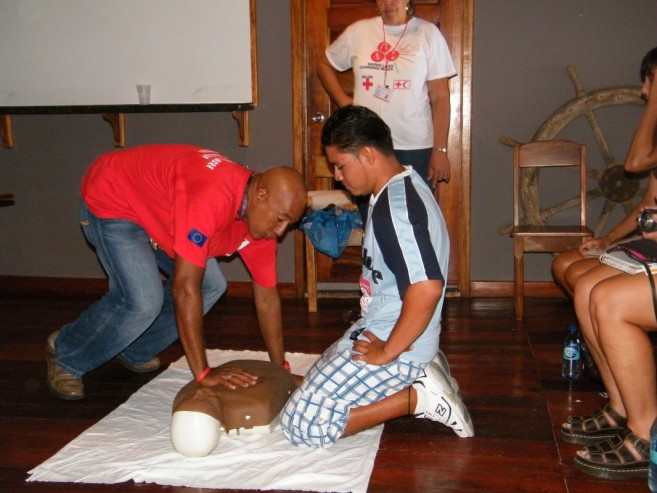 The Red Cross Movement began from volunteer action which was at the centre of an idea by its founder Swiss businessman, Henri Dunant with his experience of organizing women and others to assist wounded soldiers after the Battle of Solferino in Italy, who wrote "Would it not be possible, in time of peace and quiet, to form relief societies for the purpose of having care given to the wounded in wartime by zealous, devoted and thoroughly qualified volunteers" ?
From Dunant's words grew the whole Red Cross and Red Crescent Movement from 1863 spreading from country to country including Belize in 1983.
Today the Belize Red Cross boasts a Governing Board headed by President Hector Lopez and a Director General Lily Bowman. Its main force is its hundreds of volunteers who serve in each district.
In December this year the Belize Red Cross will host a Parade, Fair and Volunteer Recognition Ceremony marking its Pearl Anniversary.
For more information please contact Ms. Lily Bowman at 227-3319.
Follow The San Pedro Sun News on Twitter, become a fan on Facebook. Stay updated via RSS