Healthy smiles courtesy of the Smile Dental Clinic and its volunteers
Thursday, February 6th, 2014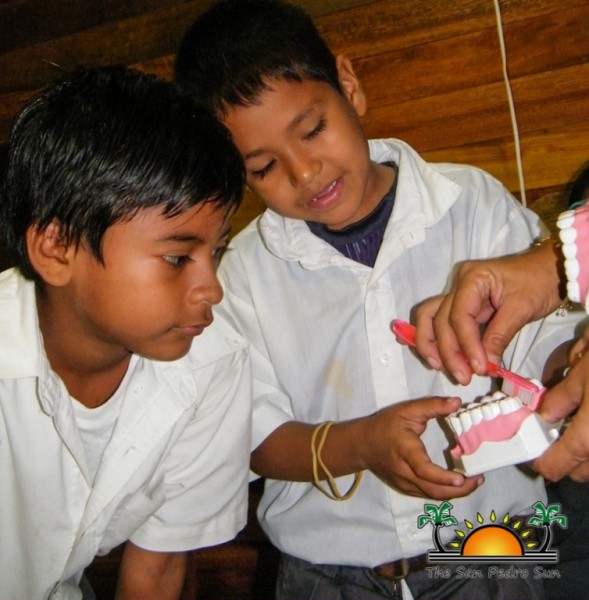 The Smile Dental Clinic at Holy Cross Anglican School is bringing more healthy smiles to the faces of San Pedro Town's beautiful children. As reported in Volume 24, issue #05 of The San Pedro Sun, The Smile Dental Clinic is currently hosting a free two-week dental clinic open to all the children of the island. The second of two groups comprises of six volunteers, three from San Pedro Town and three from the United States.
Heading the second group of volunteers is Doctor Alex Wills, a visiting dentist who has been offering his service for seven years at the Smile Dental Clinic. Dr. Wills is joined on his seventh mission by his wife Nancy Wills, a dental hygienist, both from Cape Carteret, North Carolina, USA. Dr Ken Beading from Kalamazoo, Michigan USA is also volunteering. Three local dental assistants, Eleanor Carrera, Bonnie Musbach and Norma Chin assist them while conducting the clinics. All three ladies have joined volunteers on several dental missions at the Smile Dental Clinic.
Dr. Wills has seen over 300 children of San Mateo over the past few years, most of whom attend the Holy Cross Anglican school. Through his volunteer work at The Smile Dental Clinic, he has formed a bond with them, even calling the children by their names. In fact, his visit to Belize is motivated by working in collaboration with Dr. Mark Johnson through the Smile Dental Clinic and is grateful to be able to help. "This Clinic is the best thing that could happen to the children of this area. It is a blessing and none of this would be possible without Dr. Johnson and other volunteers such as Bonnie and other local dental assistants."
The Smile Dental Clinic was the brainchild of Dr. Johnson and his wife Joan, and over the years, various groups of volunteers have offered their service through coordinated visits to the island. "I came down through Dr. Mark, my dental colleague, a few years ago. I have seen many of the kids at Holy Cross and I have seen a difference in the condition of their teeth. Compared to other schools on the island, these students at Holy Cross School have healthy teeth thanks to the work of the Smile Dental Clinic."
Because the clinic is fully equipped with all the necessary tools, the volunteer doctors can perform all kinds of dental work on their patients. From composts (filling) which allow for the almost full restoration of damaged teeth, to cleaning and even dental sealants, which is a plastic paste-like material applied on deep surfaced teeth, mainly on molars and premolars that, when hardened, has proven to be one of the best methods to reduce tooth decay. "The children that come to The Smile Dental Clinic are getting first class treatment. They are getting the same caliber of dental care that I practice in my private clinic back in North Carolina. This clinic is better than a lot of clinics in the US," said Mills.
Tooth extraction is done when and if the tooth is unable to be saved, and even then, if the dental conditions are detected on time, minor surgery can be done to correct the condition. One particular condition that was observed during this clinic was a case of supernumerary teeth on a child. "We were able to do correction to a very unusual condition. Its call supernumerary teeth, a condition in which there are more teeth than the normal amount. In this case, there were more than two teeth coming out under a permanent tooth. We extracted the excess teeth. If it is not detected and corrected in time, it can lead to various disorders, including something we commonly refer to as crooked teeth."
The team completes the two weeks of free dental clinic on Friday February 7th. To volunteer or find out more about The Smile Dental Clinic, you can contact Dr. Mark Johnson at [email protected].
Follow The San Pedro Sun News on Twitter, become a fan on Facebook. Stay updated via RSS