MOH continues to monitor Zika Virus: confirmed cases in 2017
Friday, May 26th, 2017
Zika, which is a virus transmitted by an infected female Aedes aegypti mosquito, was declared a global epidemic in 2016. However, Belize was the last Central American country to register positive Zika cases in April 2016, confirming over 40 cases and documenting over 600 suspected cases. Now, through a collaboration between the Ministry of Health in both Belize and Mexico, as well as the Pan American Health Organization, Belize is able to send blood samples to Chetumal, Quinta Roo for Zika, dengue, and chikungunya testing. After sending out 537 samples from November 2016 to April 2017, the MOH in Belize recently confirmed 124 Zika cases.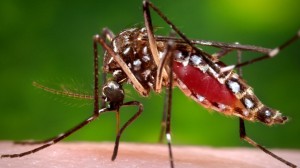 According to the Chief of Operations in the Vector Control Unit, Kim Bautista, this figure is highly prevalent in northern Belize. "With respect to Zika, I think it's been a very good year for us, because the capacity for testing was nonexistent…Since we started sending samples to Chetumal in November, we are getting results almost on a weekly basis, and able to get a response in five to seven days. The majority of those confirmed cases are coming from the Corozal District," said Bautista.
Since then, there have been many campaigns launched throughout the country to eradicate vector diseases. Beyond disease prevention, the Ministry hopes to educate people on its effects. The most common indications of Zika include: mild fever, skin rashes, red eyes, muscle and joint pain and headache. At the moment, there is no specific treatment or vaccine available and the best prevention is protection against mosquito bites. As Zika can also be transmitted sexually, Health officials also recommend the use of condoms or abstinence.
Bautista explained the possible effects when a person engages in sexual intercourse with someone who has been infected with Zika."The issue also arises of sexual transmission. How it works is that when you are bitten by an infected mosquito, you go through an incubation period. Basically, the virus is replicating itself within the blood stream, and can stay in the semen for up to six months. However, those studies aren't showing if it is present in the blood stream, but for whatever reason, it does stays in the semen for that period of time. So sexual transmission is real with respect to Zika, and thus, we recommend using condoms," said Bautista.
In reference to San Pedro Town, The San Pedro Sun contacted Central Regional Health Director, Dr. Javier Zuniga, to find out the latest figures in San Pedro. "To my knowledge, there has not been any confirmed cases in San Pedro or Caye Caulker from the start of 2017. We had about two or three cases from Belize City, but that was it," said Zuniga.
Mayor Daniel Guerrero stated that as long as the San Pedro Town Council has permission from the MOH in Belize, they will continue their routine vector disease control spraying. "In order to spray, we must get approval from the MOH. The SPTC does not just spray randomly because it is a cycle. Every year, we do spraying, along with other methods to eradicate mosquitoes. We hope that with the participation of our community, we will be able to control diseases like Zika," said Guerrero.
The SPTC and the San Pedro Police Department also have granular abate pills at no cost, which are used to kill the mosquitoes in contaminated or mosquito-infected water. All those residing in affected areas, travelers, and pregnant women should prevent mosquito bites at all costs. By covering exposed skin with long-sleeved shirts, pants, and hats, one reduces the risk of becoming infected. The use of repellents and sleeping under mosquito nets is strongly advised by health authorities.
If you, or someone you know, have symptoms of Zika, or if you are an expecting mother, please visit Dr. Otto Rodriguez' Polyclinic located at Manta Ray Street or call 226-2536 for further assistance.
Follow The San Pedro Sun News on Twitter, become a fan on Facebook. Stay updated via RSS