2018 Mosquito Awareness Week Jingle Competition
Friday, October 5th, 2018
The Ministry of Health in collaboration with Pan American Health Organization (PAHO) and Belize Red Cross are officially launching a jingle competition for the 2018 Mosquito Awareness Week, which is scheduled to take place from Monday, October 22nd to Friday, October 26th, under the theme: "Fight the Bite. Destroy Mosquito Breeding Sites." The objective of this week is to sensitize Belizeans about personal protection and the elimination of breeding sites to reduce the prevalence of vector-borne diseases (VBDS).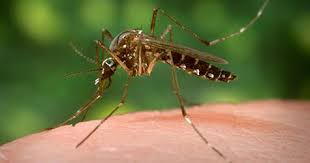 This year's campaign focuses on increasing community participation in the elimination of breeding sites for Aedes aegypti, the mosquito that transmits dengue, chikungunya, Zika and urban yellow fever. Aedes mosquitos are well adapted to human settlements and tend to breed in stagnant waters in manmade containers such as tires, buckets, barrels, planters, and trash containers. This is why it is so important to get citizens actively involved in mosquito control. Households in areas where these mosquitos circulate need to ensure that any items that can accumulate water are either discarded or emptied, scrubbed and turned over at least once a week. Containers should be tightly covered to prevent mosquitos from getting inside or thoroughly cleaned to destroy any mosquito eggs that may be attached to their surfaces. Director of PAHO's Department of Communicable Diseases and Environmental Determinants of Health, Dr. Marcos Espinal stated, "Controlling mosquito breeding sites is essential, both for prevention and during an outbreak."
Mosquito Awareness Week began in 2016 as a result of a decision taken at the 17th meeting of the Heads of Government of the Caribbean Community (CARICOM) in 2014. Throughout this week, activities will include launch of events, workshops, forums, and school and community projects aimed at reducing mosquito breeding sites.
This jingle competition seeks to increase awareness among the younger generation, especially students, on Zika and other VBDS. It is open to persons of all ages. If a group of individuals or organization submits a jingle, the group must designate a representative to be responsible for coordinating communications.
Each submission must be the original work of the person, group or organization. The video must not exceed 30 seconds or risk disqualification. The jingle must also highlight this year's Mosquito Awareness Week Theme.
The jingle will be judge based on creativity, message clarity and relevance, motivation, inspiration and overall impact. The deadline for submission is Friday, October 12th. The winner of the jingle competition will walk away with the grand cash prize of $500. For more information, or if you would like to participate, email [email protected]. Keep in mind the email must contain your name and contact number.
Follow The San Pedro Sun News on Twitter, become a fan on Facebook. Stay updated via RSS