Ministry of Health urges Ministry of Education to prohibit the sale of sodas in schools
Saturday, October 20th, 2018
During the signing ceremony of contracts to extend the Hemodialysis program for Belizean patients who suffer from the end-stage of renal failure, the Minister of Health Honorable Pablo Marin called for the Ministry of Education (MOE) to prohibit the sale of soft drinks in educational institutions countrywide. The announcement was made on Monday, October 8th with Marin stating that this initiative is part of the ministry's action plan to tackle deaths associated with non-communicable diseases such as diabetes and hypertension, which are the leading cause of end-stage renal failure.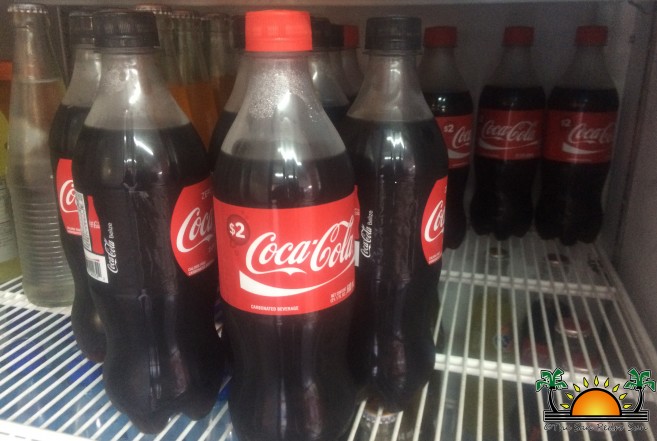 According to Marin, banning the sale of soft drinks in schools is one step further to promoting a healthier lifestyle in our society. "The Ministry of Health has already done a portion of it, placing a no soft drinks, no colas policy in all of our institutions. Now I will ask the Ministry of Education for us to sign a Memorandum of Understanding to ban all those soft drinks that are sold in schools and also for all the junk foods that are affecting our kids." He added "I think the only thing is for us to sit down and see how we will move forward, I think we need to go step by step. The first thing, is for the schools, even though when students leave they will drink what they want."
A representative from the MOH here on the island told The San Pedro Sun that they agree with the banning of soft drinks from schools, however it takes more than just that to decrease the consumption of these carbonated beverages. " It's a great idea, however we can control the children from not drinking sodas at the school but, how about when they leave; we cannot control what they drink at home," said the spokesperson. "I believe that with this new law that the MOH wants to implement, educational campaigns should be put in place in order to educate all Belizeans about the negative effects these carbonated beverages can have on their health." The representative added that here in San Pedro Town, island residents consume soft-drinks by the ton on a daily basis.
The Holy Cross Anglican School here in San Pedro Town is one of the schools that is already taking steps to promote a healthy lifestyle. The school has not been selling soft drinks for the past 11 years. "We don't sell soft drinks or any other carbonated beverage as we try to do our part in providing the children with healthy snacks in order for them to stay healthy," said the school Principal Olivia Tasher.
The excess consumption of soft drinks have negative effects on ones health because one single soda contains a large quantity of sugar. This amount of sugar, especially in liquid form, skyrockets blood-sugar levels, causing an insulin reaction in the body. Over time, this can lead to diabetes or insulin resistance. Other negative effects soft drinks can have on one's health includes cancers, breast lumps, irregular heartbeat, high blood pressure, obesity, chronic dehydration and even plaque to build up on the teeth and cause cavities. In addition, diet sodas can also be harmful as aspartame is used as a substitute for sugar which is linked to almost a hundred different health problems including seizures, multiple sclerosis, brain tumors, diabetes, and emotional disorders.
The Ministry of Health further advises parents to be mindful of what their children consume and to promote health eating at home.
Follow The San Pedro Sun News on Twitter, become a fan on Facebook. Stay updated via RSS