Caribbean countries and territories are better prepared to keep imported measles from sparking outbreaks
Monday, October 22nd, 2018
Washington, DC, October 19 2018 (PAHO/WHO) — It's been more than 25 years since the Caribbean reported its last case of indigenous measles. But the risk of imported cases has persisted because measles continues to circulate in countries around the world.

To protect its member countries and territories in the region, the Pan American Health Organization (PAHO) recently held a three-day workshop in Jamaica on preparedness and response to imported measles and rubella cases. The trainees were 35 health officers specialized in immunization and/or epidemiology from 25 Caribbean countries and territories.
Measles is one of the most contagious diseases in the world. Just one imported case can cause a local outbreak, which if not controlled can spread quickly and widely. This is what happened in neighboring South and North America over the past two years. Through late September of this year, 11 countries in the hemisphere reported 6,629 confirmed cases of measles, including 72 deaths. Most of the cases were in South America, especially Venezuela and Brazil.
"The recent experience of measles outbreaks in Latin America highlights the importance of strengthening not just our surveillance systems and coverage with MMR [measles, mumps and rubella vaccine] but also the rapid response to outbreaks," said Dr Karen Lewis-Bell, PAHO Regional Advisor on Immunization for the Caribbean.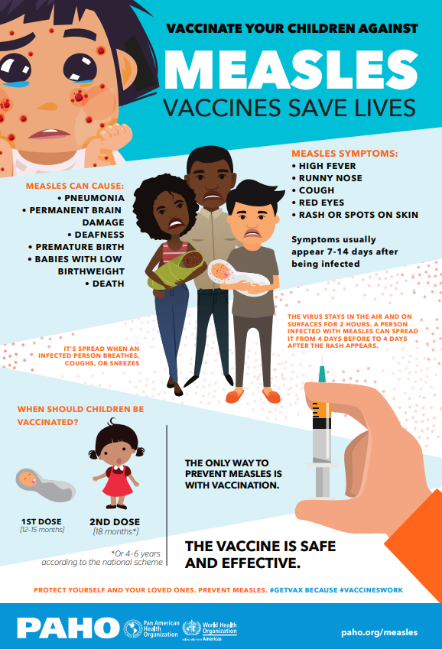 Since its last indigenous case of measles in 1991, the Caribbean has reported six imported cases in four countries and one import-related case. But given the recent upsurge in cases elsewhere in the Americas and the high increase in infections and extended outbreaks in Europe, PAHO experts and local health authorities want to ensure that the Caribbean is able to cope with any imported cases and forestall any major outbreak.
Toward this end, the recent PAHO workshop introduced a newly developed methodology and case study from PAHO's Immunization Unit. Participating health officers learned procedures and methods for timely reporting and high-quality epidemiological investigation of a measles outbreak; how to implement aggressive outbreak-response measures guided by a thorough field investigation; how to distinguish measles and rubella from arboviral diseases like Zika, dengue and chikungunya; and how to interpret laboratory results for diagnostic confirmation.
The workshop also included a simulation exercise based on two hypothetical measles outbreaks, one involving an international traveler and another in a public hospital. Participants learned how to organize themselves into a rapid-response team, conduct an epidemiological investigation of the outbreak, analyze and interpret their findings, and plan a rapid response to the outbreak.
"It was an excellent training exercise that has left me feeling much more prepared to respond to an imported case of measles and also better positioned to take steps to improve routine surveillance for measles and rubella," said Dr Iyanna Wellington, Medical Epidemiologist from Jamaica's Ministry of Health. "Especially important was placing fever and rash surveillance in the context of multiple circulating viruses that have rash as a clinical manifestation," she added.
PAHO has been organizing similar training on measles outbreak response for its member countries in the Americas since late 2017. In addition to the Caribbean, workshops have been held in El Salvador for the countries of Central America and the Latin Caribbean, in Buenos Aires for the countries of South America, and in seven countries for national capacity-building.
PAHO is also engaged in ongoing technical cooperation to strengthen national immunization programs to help its member countries achieve and maintain high rates of vaccination coverage.
Follow The San Pedro Sun News on Twitter, become a fan on Facebook. Stay updated via RSS