San Pedro Town residents await results of COVID-19 mapping tests; will there be another lockdown?
Tuesday, August 4th, 2020
Several island residents have been summoned to the San Pedro Care Center (Flu clinic) in the Mar de Tumbo area to be swabbed and then tested for COVID-19, while an extensive mapping continues to take place on the island following positive case #57 on Sunday, August 2nd. The Ministry of Health offered a virtual press conference on Tuesday, August 4th, indicating that around 50 samples from San Pedro will be processed and results are expected to be available Wednesday, August 5th.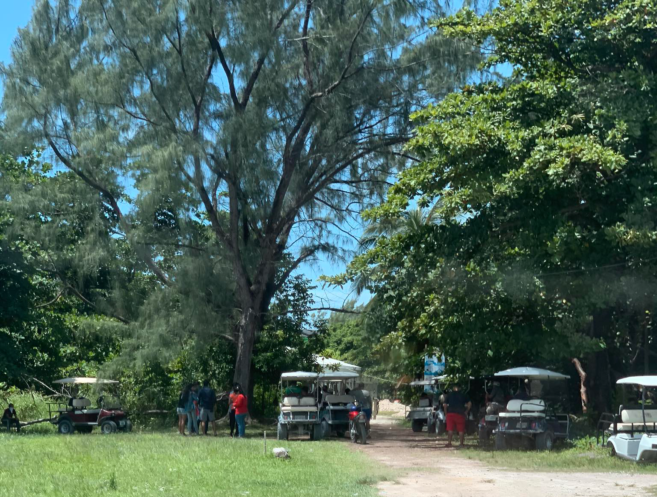 If there are additional cases on the island and signs of community spread, the island could be placed under quarantine. Prime Minister Right Honourable Dean Barrow made it clear during the Special Sitting of the House of Representatives yesterday that the island would be locked down, and no one will be allowed to travel to San Pedro. A visibly frustrated prime minister even warned that if the island becomes the epicentre of cases, it could delay the re-opening of the Philip Goldson International Airport.
During the Tuesday morning press conference, Director of Health Services, Dr. Marvin Manzanero spoke about different cases across the country in Corozal, Orange Walk, and the Belize Districts, including San Pedro. On the island, the patient, who marked the 57th case in the country is said to be stable and in self-isolation. The patient, a 31-year-old female, was in an occupation (job) where she has to deal with a host of people, and therefore an extensive mapping exercise is underway. Patient #57 is said to have been traveling to other parts of the country, thus, the mapping exercise has been extended as far as Placencia in southern Belize.
Frustration during testing – people leaving the island
The situation in San Pedro is a bit chaotic, with persons trying to get tested and having to wait outside the Mar de Tumbo flu clinic for hours. Many claim that the process is slow and frustrating. Others have opted to leave the island, and early on Tuesday, August 4th a large number of persons left via the water taxi. Dr. Manzanero doesn't agree with the people's decision to leave the island. He suggested if people are ill or they know they have been in contact with infected persons, they should seek medical attention. Manzanero advises those that want to leave, but suspect they may have contracted the virus need to be honest and visit the flu clinics, and say what happened, rather than just hopping in a boat and going to hide in an unaffected village. He says these decisions are not only irresponsible, but catastrophic, as otherwise healthy family members and community members in a village/town can get infected.
Meanwhile, the National Emergency Management Organization in San Pedro informs island residents that if they are feeling unwell with flu-like or respiratory illness symptoms (cough, fever, body aches, loss of smell/taste etc.) or believe they had been in contact with someone with the virus, to call 672-0911.
The flu clinic at Mar de Tumbo is open Monday to Friday from 8AM to 4PM for flu-like or respiratory illnesses. For prescription refills, vaccinations and non-flu like illness, The Dr. Otto Rodriguez San Pedro Polyclinic II is open and available to serve residents.
Follow The San Pedro Sun News on Twitter, become a fan on Facebook. Stay updated via RSS