Belize nearing 100 COVID-19 deaths; Ambergris Caye down to 32 active cases
Tuesday, November 17th, 2020
As of Tuesday, November 17th, Belize has recorded 94 deaths due to complications caused by the deadly Coronavirus (COVID-19). The daily case reports show how the virus continues to spread even to the country's most remote areas, with people dying almost daily. The deadliest day was on Friday, November 13th, when ten deaths were reported countrywide. Meanwhile, Ambergris Caye has seen two Covid-19 related deaths since the pandemic reached the country in March and currently has 32 active cases out of 337 infections.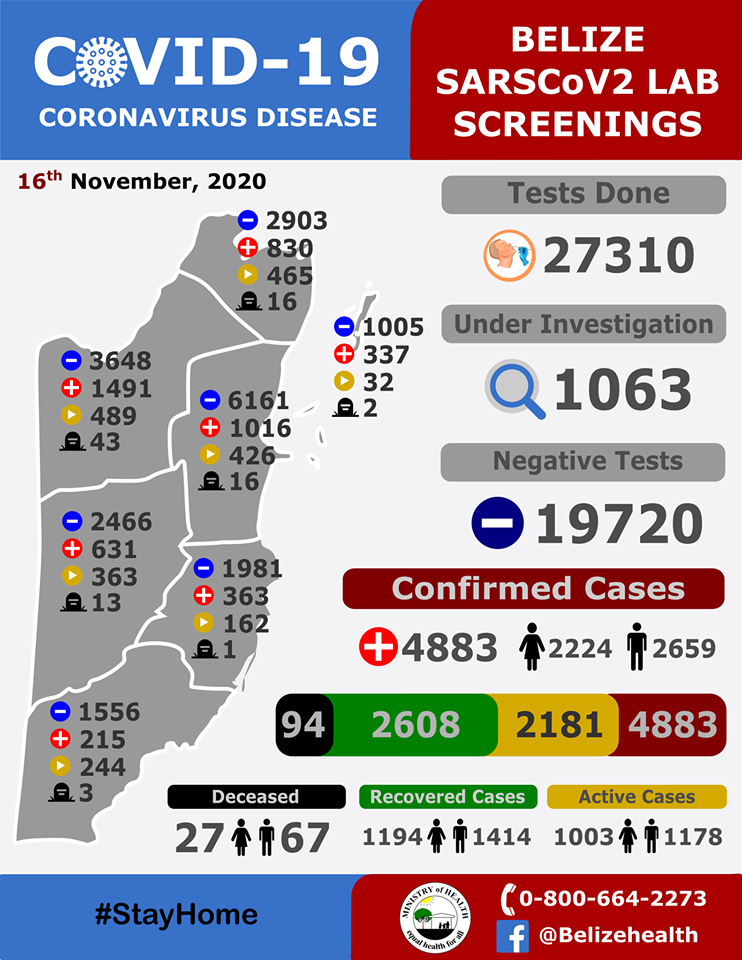 As new positive cases are being reported daily, islanders are reminded that it is by no means time to bring down your guard. Island residents are encouraged to continue following the prescribed health safety measures: wearing masks, proper handwashing, and practicing social distancing.
Flu Clinic re-opens
The flu clinic at Mar de Tumbo has re-opened and continues to swab persons for COVID-19 testing. The clinic was temporarily closed after Hurricane Eta, which flooded the premise, but according to medical personnel from the Dr. Otto Rodriguez San Pedro Polyclinic II, it has re-opened, and patients can visit Monday to Friday 8AM to 4PM. For emergencies call phone number 672-0911.
Northern districts registering the most deaths
The majority of COVID-19 deaths are coming from the Orange Walk and Corozal Districts. The victims are mostly elderly and with underlying conditions, and the fatality rate is now at 1.93% countrywide. Belize has a 44.7% rate of active cases, with a total of 2,181 out of 4,883. Currently, the northern districts count with the highest number of infections: Corozal has 465, and Orange Walk totals 489.
The deadly virus continues to wreak havoc around the world. Although two vaccines are being reported as successful and soon to come on the market, adhering to safety measures is imperative. It is essential to practice proper hygiene, be out on the streets only when necessary, and to wear face masks. These measures are to avoid contracting the illness and protect the elderly and sick who are being directly affected by COVID-19.
Follow The San Pedro Sun News on Twitter, become a fan on Facebook. Stay updated via RSS