Mar de Tumbo Flu Clinic closes due to flooding; patients to be tended at Polyclinic
Saturday, November 21st, 2020
The Mar del Tumbo flu clinic south of downtown San Pedro is closed for the time being due to the heavy rainfall on the island. Its premises are flooded and patients seeking COVID-19 related services are advised to visit the Dr. Otto Rodriguez San Pedro Polyclinic II starting Monday, November 23rd.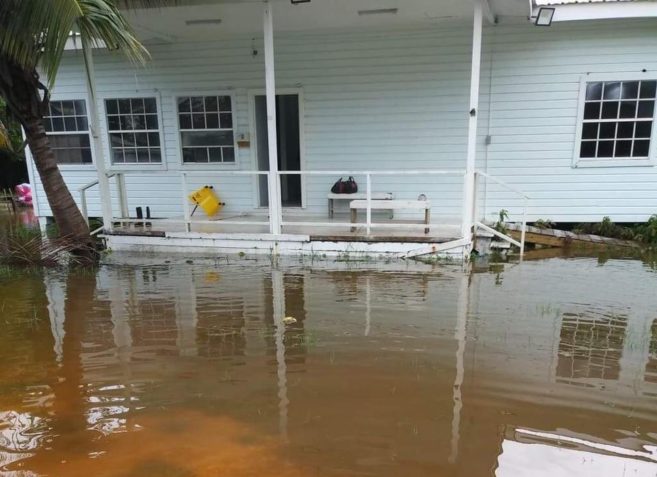 The National Meteorological Service of Belize has forecast that the rain could continue through Tuesday, November 24th. The rainy weather for the past days has been associated with the remnants of Category 5 Hurricane Iota. The major storm entered Central America touching down on Nicaragua on Tuesday, November 17th, with sustained winds of 160 Miles Per Hour, destroying communities and displacing tens of thousands of persons and leaving many dead. In Belize, heavy rainfall continues, causing flooding on the mainland and on the Cayes. Most streets in San Pedro are severely flooded and areas without proper drainage, like the Flu Clinic have been inundated. The facility has become unsafe to use and it could take days before the water rescinds.
Medical staff on the island not overwhelmed yet
The COVID-19 situation on the island continues to be closely monitored, and although cases are reported almost on a daily basis, the number of infected persons has significantly decreased over the past weeks. According to medical personnel in San Pedro, this low number of active cases has helped the level of health services offered to those infected. They add that the flu clinic has not reached its capacity and is swiftly tending to people every day within a decent time frame.
In other parts of the country, reports from patients indicate that some places have reached capacity and the service is inadequate. Some potentially ill persons do not get tested and after waiting hours to get swabbed, often give up and return home. Others claim that they are told they need to meet certain criteria to even get swabbed. Patients have also declared that once swabbed, it takes days before results are issued.
Rapid testing the answer
As the number of deaths has increased, particularly in the elderly, the Ministry of Health reported on Friday, November 20th that all regional hospitals and most community health facilities are now implementing rapid testing. This service is available to symptomatic patients and those close contacts of confirmed cases.
In San Pedro, rapid testing was tried at the end of September, and validation was done after comparing results with a PCR test. Rapid testing produces results in approximately 30 minutes, and can replace the need to get a PCR test that takes longer to produce results. This new method has yielded good results and aims to test a vast number of persons in a short time.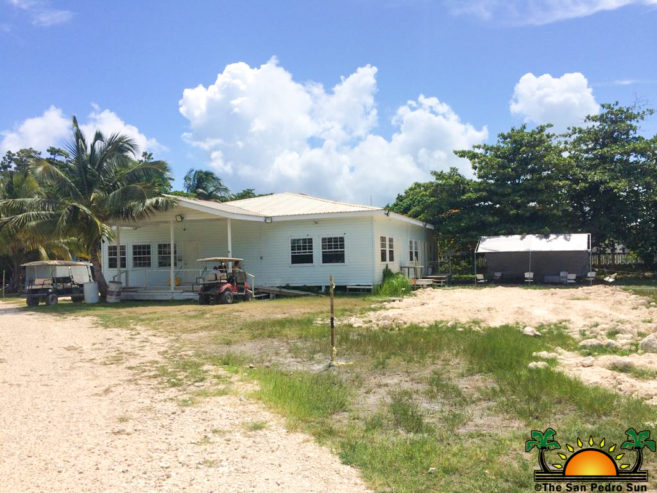 The Mar del Tumbo flu clinic was established in March when COVID-19 was first reported in Belize. The clinic was called San Pedro Care Center, equipped with an isolation unit, a flu clinic, a pharmacy, and a temporary isolation area. The temporary clinic is a joint community effort, which transformed an inactive property into an efficient medical facility. The building was refurbished and became a 30-bed ward facility distributed within five rooms with its own entry/exit to the outside, through which patients are brought in by an ambulance.
The general public is reminded that services related to COVID-19 will be available at the Dr. Otto Rodriguez San Pedro Polyclinic on Manta Ray Street from 8AM to 4PM starting this Monday. For any emergencies, calls can be made to the phone number 672-0911.
Follow The San Pedro Sun News on Twitter, become a fan on Facebook. Stay updated via RSS