Inmate dies in SP Police Custody
Tuesday, February 21st, 2012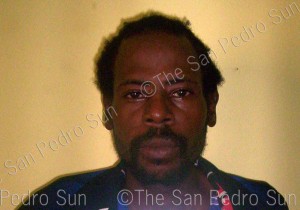 Sometime around 11pm Monday night, acting upon complaints received, SP Police detained one Miguel Martinez, 32, of a San Pedrito Area address. Martinez was detained and brought to the SP Police Station and placed in a cell with four other inmates.
According to reports, Martinez was acting disorderly and apparently under the influence of alcohol. When Police made checks sometime around 5am Tuesday, they observed what appeared to be the motionless body of Martinez on the floor of the cell. After attempts at reviving him, and receiving no response, Dr. Javier Zuniga was called. Zuniga certified him dead shortly after.
UPDATE:
San Pedro Police is conducting an investigation following the death of a detainee at the police station. While there has been no official release, the department confirmed to The San Pedro Sun that sometime around 8:00AM on Tuesday February 21st, 32 year old Miguel Martinez was found dead inside his cell. He was found by an on duty officer after he was alerted by other detainees that Martinez was motionless.
In speaking to stepfather of the deceased, Emmanuel Diego, The San Pedro Sun found out that Martinez was detained on the beach following a report. "According to Police he was detained after he was walking with a machete in his hand. The police got a call from a hotel saying that Martinez was with a machete on the beach giving trouble. The security guys from the hotel handcuff him and handed him over to the police; that was around one in the morning. They brought him here (at the station) and according to the police, they put him in a cell along with other inmates that were in there. According to them [Police], it seems that Martinez was giving trouble and was put in another cell by himself. By this morning, he [Martinez] was dead."
Police Press Officer, Rafael Martinez explained that a detailed report would be made public following a post mortem examination but said that the deceased was certified dead shortly before 9:00PM by Dr. Javier Zuniga. Martinez's body was observed lying on his back with a pair of handcuffs around his hands inside the cell and fully clothed. Martinez had died some two hours prior to being certified Zuniga explained.
According to Diego, while he was allowed to identify Martinez from outside of the cell, he could not notice if there was any signs of violence on the body. "The prison bars were not open so that we could have noticed what might have happened to him," said Diego. Family members visited the station in search for answers regarding their dead relative. "I saw him Sunday, crossing the bridge and nothing was wrong with him; he seemed perfectly well. One day after, by Tuesday morning, we got a call to say he is dead," explained a clueless Diego. While Diego did not want to speculate what might have happened, he said that the family will be anxiously awaiting the results of a post mortem, which he expects could shine some light into the death of Martinez.
After learning of the incident, Area Representative Manuel Heredia Jr. visited the station where he met in private with the Officer Commanding the San Pedro Police Formation Dennis Arnold. According to Heredia cellmates are being question to gather if there were any forms of brutality being done while Martinez was detained. "I want to ensure that the law follows its course and that the family is satisfied with the report that follows with the investigation," explained Heredia.
Meanwhile Martinez's body has been transferred to Belize City where a post mortem examination is expected to be conducted later this week that will determine the cause of death. According to the Police Press Officer, a detailed report will be compiled following the post mortem to ensure that there was no negligence from the police.
Follow The San Pedro Sun News on Twitter, become a fan on Facebook. Stay updated via RSS