Police Officer arrested and charged for "attempting to corrupt an officer"
Monday, May 14th, 2012
Police Officer arrested and charged for "attempting to corrupt an officer"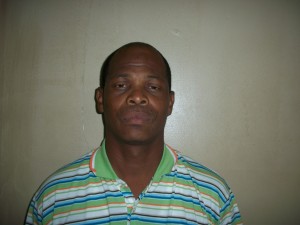 On Friday May 11, 2012 the Gang Suppression Unit arrested and charged Matilda Victoria GARNETT, Public Officer and Rodwell RICHARDS, former Police Corporal, both of Belize City, for "attempting to corrupt an officer".
On Saturday May 12, 2012, Darius MARTINEZ, a 42 year old Belizean Police Corporal of 15 Riverside Street, Orange Walk Town, attached to the Faber's Road Precinct, Belize City, was charged with the same offence.
The charge arises from two calls placed by MARTINEZ from his personal cellular telephone to a member of the Gang Suppression Unit the previous day (Friday May 11,2012).
During the first call made early in the afternoon, MARTINEZ, who is well known to the officer whom he called, said that he was assisting INTERPOL and 922 TIPS with an investigation on McAfee and was interested in information contained in a diary found during the search executed at John McAfee's residence in Orange Walk. He placed another call to the same officer later that day and insisted on getting information, saying that he wanted to help "the millionaire McAfee", "a friend" and that the officer could "make money" once the officer assisted in providing certain information and if the officer "watched" the Unit on his behalf.
A Warrant for the apprehension of MARTINEZ was then obtained.
When the Unit attempted to execute the Warrant at his home in Orange Walk, his wife said that MARTINEZ was already expecting the GSU but was not at home and had left for work at 10:00 am to Belize City. He was later located by the GSU around 9:30 pm in Belmopan and has since been arrested and charged for attempting to corrupt an officer, resisting arrest and using obscene language.
Follow The San Pedro Sun News on Twitter, become a fan on Facebook. Stay updated via RSS