Canadian National burglarized of over $25,000 worth in goods
Tuesday, July 8th, 2014
52-year-old John Webber, Canadian Construction Worker and Insulator living in San Pedro, has reported to the San Pedro Police that his home had been burglarized and over $25,000 worth of goods are missing. On Wednesday, July 2nd Webber stated that between Thursday, June 26th and Sunday, June 29th his home was broken into and a variety of appliances, tools, and other household items were missing.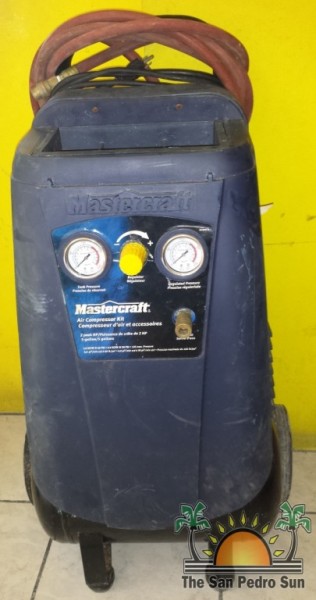 Stolen from his home was a Seagull Cedar Acoustical Guitar (Coastline Series), Nissan 9.9 Outboard Motor, Mastercraft compressor, Rubbermaid wheel barrow, Poulan 16" chainsaw 2-stroke, Ryabi 4-stroke weed wacker, Stihl chainsaw, Shaw satellite receiver, 1 ¾" set of sockets and ratchets, Magic Bullet blender, Celestron battery pack, various telescope eye pieces, Canon dive light, electric drill, Mastercraft impact drill, Lot hand tools, various dive lights, Phillips CD player, three long women's wetsuits, two short men's wetsuits, one long men's wetsuit, two atomic frameless masks with snorkels, Mares full foot fins for men, Bare full foot fin for women, Dacor spear gun, Hawaiian sling, fly rod and reel, two fishing rods and reels, LED HD projector, Cuisinart Toaster, coffee maker, Henkel knife set, 42" Samsung Smart TV, Sony blueray player, Sony 5.1 receiver, five Bose directional speakers, Bose Ipod dock, MiFi, clock radio, dive mask, Toshiba DVD player, Zenith stereo receiver, battery chargers, portable DC air pump, and Blackberry cell phone. The items had a cumulative estimated value of $25,228BZ. Webber has requested court action into the matter.
As a result, San Pedro Police have visited the scene and processed the case. Since the report, police have recovered the Mastercraft compressor and detained one suspected person. It is not as yet clear who the true culprit is, but police continuing the investigation.
Due to the recent increase in burglaries, San Pedro Police is asking all residents to take extra measure securing their homes. "It is best to close and lock all windows and doors before going to bed or when leaving the house. Also leaving a light on outside of the home at night can help ward off burglars. Burglars tend to survey the house before they burglarize it, so if you see anything suspicious in your neighborhood, contact the police immediately," Said Officer in Charge of Police, Luis Castellanos. The San Pedro Police urges all burglary victims to report the incident, as nothing can be done if the case is not reported. He also urges everyone to avoid purchasing stolen items, if the price seems too good, chances are, the item is stolen. Always ask for receipt of ownership. If you don't buy, thieves have no incentive to steal. If you are caught with stolen goods, you can be charged with "Handling Stolen Goods".
To make a report visit the San Pedro Police Station on Pescador Drive or call 206-2022.
Follow The San Pedro Sun News on Twitter, become a fan on Facebook. Stay updated via RSS