Residents warned against carrying knives
Friday, November 13th, 2015
The Belize Eastern Police Division is both warning and reminding the general public on the laws on carrying items with a sharply pointed blade. According to police, carrying items with blades exceeding three inches between the hours of 8PM to 5AM or during public events is illegal. This regulation has long been overseen, but will now be strictly enforced by all police divisions, including the Coastal Executive Unit, which is made up of the San Pedro Police Department and the Caye Caulker Police Department.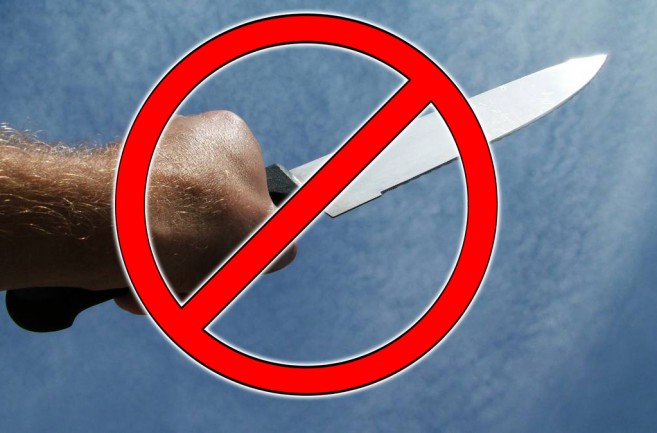 According to Commander of the Belize Eastern Police Division – South, Senior Superintendent Chester Williams, knives have become the weapon of choice in most incidents resulting in injuries. "The weapon of choice being used is now knives. So the fact that we know this, we are basically telling the members of the public to be aware what the weapon is being used in committing crime. Try to refrain from being around persons who have knives and at the same time, to give warnings to those who are walking around with knives and let them know, that it is an offence under the Crimes Control Act and the Criminal Justice Act which prohibits the carrying of knives between 8PM and 5AM, where the knife blade is over three inches, providing though that you cannot give a reasonable explanation as to why you are carrying the knife," explained Williams. Police are notifying the public of the blade possession laws and police will now be targeting offenders through vigorous stop-and-search and prosecution to the full extent of the law.
At the same time, Williams asks for discretion when making reports to avoid confusion. "We must use our discretion, because if we see a person who we know is a fisherman, a farmer coming home after eight or between 8PM and 5AM, we have to use our discretion and not charge them. But if you are walking around with a knife and have no reason for having it, then we will enforce the law. Because at the end of the day we are now seeing a trend where it is now the weapon of choice," said Williams.
Here in San Pedro, police have indicated that they have been observing an increase in incidents of knife related crimes. They urge everyone to continue in working with them in decreasing crimes in all neighborhoods. Police urge all residents to be aware of the blade possession laws and want it to be known that they will be targeting offenders through vigorous stop-and-search and prosecution to the full extent of the law. The penalty for violating the knife regulation can result in a $500 fine or six months of imprisonment.
To make a report, contact the San Pedro Police Department at 226-2022 or the Crime Stoppers phone line at 0-800-922-8477.
Follow The San Pedro Sun News on Twitter, become a fan on Facebook. Stay updated via RSS