Charred remains of Cessna aircraft found in Spanish Lookout
Saturday, December 5th, 2015
Investigations are ongoing on the discovery of a charred plane in the Spanish Lookout Community. The Cessna 210 aircraft was found on Tuesday, December 1st in a remote location in the Spanish Lookout Community near the Aguacate Lagoon. Reports indicate that the aircraft landed in the area sometime around midnight on Monday, November 30th.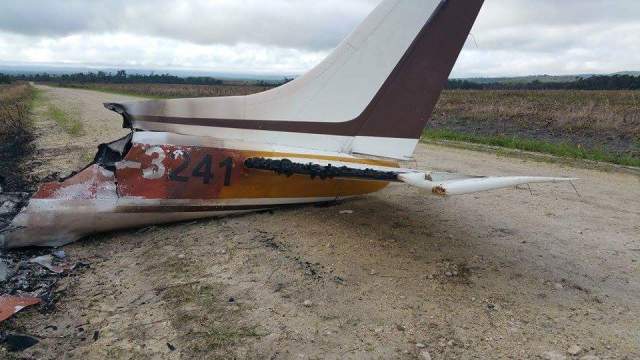 While police have not released any official statement on the aircraft, residents of the area have indicated that they heard the aircraft circling the area prior to landing, after which a number of vehicles were seen in the same area. But when police arrived at the scene, the Cessna had already been burned, with its only recognizable feature being the tail which displayed numbers YZ3241. The speculations are that the vessel is a drug plane used to bring in narcotics to the country. The plane may have been burned to destroy all evidence of drug related crimes.
This is not the first time such an incident has occurred in the Spanish Lookout Area. In 2014 a similar plane was also found in Spanish Lookout. That plane was also burned and again not official report was ever released as its origin. Currently the remains of the Cessna 210 have been confiscated as evidence.
The Belize Police Anti-Drug Unit are leading the investigations into the incident.
Follow The San Pedro Sun News on Twitter, become a fan on Facebook. Stay updated via RSS